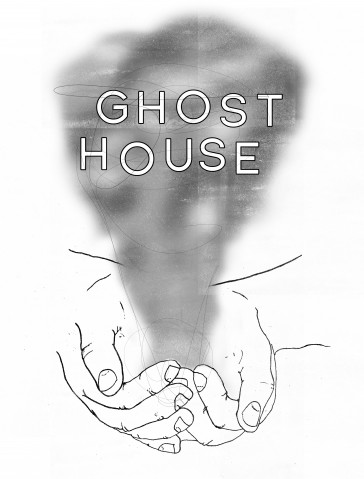 As if trying to make up for the lackluster summer here in Vancouver, the afternoon sun beats down with fierce conviction when I meet up Jesse Gander, singer/pianist for the ferociously upbeat Ghost House, at Guelph Park. The glowing weather matches the singer's genial disposition. With the good weather ready to bid us farewell, it's fortunate we have the group's new album, The Present Tense, to keep the positive energy flowing during the looming winter months. Ghost House "is an intensive, high-energy listen," says Gander. Opening track "Recreational" delivers on this promise with an invigorating burst of piano, as the vocalist croons about "summer turning into autumn." The tune feels appropriate, given the timing of our meeting.
Back in 2006, Ghost House released Departures, a record that received much acclaim for its bold, angular song structures, unabashed pop influence and improvisational musicianship. "The first album was definitely more of a collaborative effort," says Gander. Ghost House followed up their debut with a set of four EPs featuring interconnecting artwork. However, in 2009 Ghost House went on hiatus. After building up all that momentum, why the recess?
The reason was simple: Gander needed a break. Before the hiatus, Gander had one of his most prolific songwriting periods, penning over 45 songs for the outfit. Impressive as that is, it was a bit overwhelming for the performer. "I wanted to put the band on hold for a year," he explains. "I play in four bands and I was running out of ideas for things to play on the piano."
Ghost House boasts an impressive line-up of scene veterans. Gander is the Chief Recording Engineer at The Hive and currently plays in spaced-out country outfit Cloudsplitter and the punky Previous Tenants; Guitarist Katie Lapi, who previously played with Gander in Operation Makeout, also sings for Safety Show; bassist Steve Matheson played in WPP and Fun 100. Rhythm guitarist Sarah Jane Truman and drummer Paul Patko are recent additions to the group, both having played in the rhythmically complex math-rock band Owl Drugs. "Paul Patko is one of my oldest friends in the world," says Gander, dating his musical partnership with the percussionist to the early '90s. "I knew I couldn't have Paul in the band without asking [Sarah Jane] because I hadn't seen enough of either of them lately, so I said, 'let's make it a five-piece.'"
Even though Ghost House took a leave of absence from the local scene, the demand continued for their live show. "We put the band back together just three months ago," he says. "People around town were bugging us to play again. We kept hearing 'Don't break up that band! We like that band.' It was really encouraging."
Despite the layover, the band has retained their penchant for odd time shifts and melodic overdubs. "Thermostat" jumps out at the listener with its frantic piano riffs and Gander's euphonious vocals. It's a tight pop song with a pro-Vancouver message. "That song is about going out and having fun in the wintertime, like going to see a local show," Gander enthuses about the tune. "'You work at six in the morning? Let's go out anyways!'" The last line outlines his position clearly: "In this city there's so much to do." No Fun City? No way.
"Footprint," meanwhile, takes the listener to unexpected places. On it, Gander sings about "evolution on the loose" as dissonant piano notes occasionally dart into the otherwise straight-ahead pop song. Like many tracks on the album, it's filled to the brim with instrumentation. There's a constant onslaught of skittering guitar and Gander's ferocious keywork—it oftentimes sounds like he's jogging on his piano.
As the principal songwriter, Gander has a unique approach to creating and learning the riffs that make up the foundation of a Ghost House song: He sits down at his piano and plays whatever strikes him. "Sometimes I'll just start noodling," he confirms, explaining he records his ideas and composes rough song sketches in ProTools. "I'll find one part within my own solo and start looping that. I compose it all electronically and teach myself how to play it [on the piano]."
Every band members brings their own particular skill-set to the table, informing the act's mixture of pop, complex guitar work and aggressive melodies. "[Patko and Truman] come from a crazy math-rock background," says Gander. "Katie brings the pop on the vocal level. She is also an unorthodox guitar player. Put all that together and you have our sound: a little preciseness, a little math-rocky element to the rhythm section, some pop played with punk energy and Katie's crazy shit." Along with her colourful contributions on the guitar, Lapi shares vocal duties with Gander, and takes the lead on "Old You" and "Animal Waltz."
Lapi is also a talented graphic designer and has crafted the artwork for every Ghost House record.
The cover of The Present Tense shows a group of animals on a bus drinking coffee, listening to music and reading the news. "I wanted to show animals stressed out,"says Gander. "The whole premise of the album is looking at where we as human beings sit in society with instincts intact. In a society that's evolving so rapidly, how are we going to adapt?"
Despite some ominous lyrical overtones, the overall positive energy of The Present Tense gives me hope that, as long as we have a set of headphones on, we're going to be okay.