Summer might have been ending, but the weather was just right for some smooth sailing. Twelve of Vancouver's finest bands (plus a few guests) turned up at the Biltmore event in full marina regalia to perform covers of '70s yacht rock hits on a light-hearted night not soon forgotten.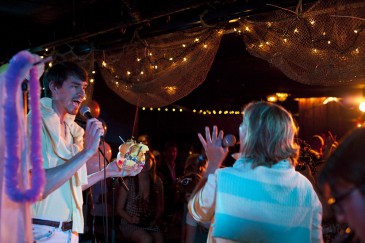 Having arrived too late to catch the bittersweet folk stylings of Valerie Graham (since when do shows start on time?), the first band I caught was Shane Turner Overdrive, with an earnest set full of yearning, befitting the best of high school dances. Next, Thee Ahs charmed with their jangly renditions of smooth tunes like Bread's "Baby I'm-a Want You." Jody Glenham and prOphecy sun then played a hauntingly ambient version of "Maneater" stretching out to ten minutes, and, following up the slow jam, Fine Mist and Island Time got bodies moving with their raucous set including the Doobie Brothers smash "What a Fool Believes." Apollo Ghosts next decided to waste away in Margaritaville, covering the original yacht-rocker Jimmy Buffet, and they made sure that form matched content by serving up the appropriate drinks to audience members on "Margaritaville" and "Tequila Sunrise." Boogie Monster and Kidnap Kids played a simultaneously intense and cute set with Toto's "Africa" and Journey's "Don't Stop Believing," the Greff Band serenaded with some soulful power ballads, and B-Lines brought a hefty dose of punk sneer to such classics as Neil Sedaka's (or the Captain &Tennille's) "Love Will Keep us Together," ensuring beer was spilled like the tide coming in.
The Greff Band will be sailing in style on the yacht ride they won for being declared the evening's "smoothest" band by their audience (Second place: B-Lines, Third place: MT-40). However, this writer was stuck taking the bus and so had to miss out on Red Cedar, Role Mach, and MT-40 (thanks a lot, Translink), but it can only be assumed that the sailing was smooth off into the night.