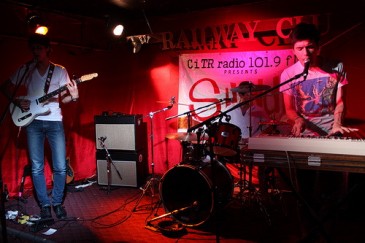 Shindig Night Two at the Railway Club was like a normal show in reverse. As the evening wore on, the music became more experimental and the crowd got thinner and less enthusiastic. To be fair, it was a Tuesday.
Catamaran opened the show to an enthusiastic, almost-full house. Their interesting blend of pop and dissonance made them the best band of the night and certainly the crowd favourite. While they occasionally suffered from Inaudible Vocal Syndrome, the rhythms and overlapping guitar figures made everyone listen carefully. Highlights included "Apparition," "Clocks" and a tap-dance solo. The band exuded lots of energy and seemed happy to be playing.
Half Chinese, the night's eventual winner, came next. The band specialized in the sort of instrumental compositions that are more fun to play than to listen to. That being said, Half Chinese were tight, and proficient on multiple instruments. The band moved skillfully between an array of styles; sometimes they were Animal Collective, other times they were the Strokes with no singer. Their highly polished disorder was impressive, but the slower, lyrical songs were their most compelling.
No Time, one man's collaboration with a tape deck, was by far the most bizarre act of the night. The guy had quirky down to a science; he wore a glorified gym strip and had stickers covering the ends of his guitar strings. Though he shouted and played heavily distorted guitar over a lo-fi backing-track, his performance was quieter than most acoustic sets. He gave the hipsters in attendance a taste of their own medicine. It certainly went over my head, but Andy Warhol would've loved it.