Seated on a worn kitchen chair under disorienting green stage lights, with nearly everyone in the room huddled next to him (hecklers included), Robert Aiki Aubrey Lowe (a.k.a. Lichens) stole this highly anticipated show from stoner/doom rock icons and tour mates Om.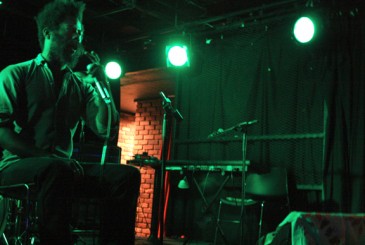 Employing only his voice, an array of effects pedals and a lone electric guitar, Lowe developed an audience-performer communion rarely seen in venues the size of the Biltmore. Beginning with shrill, sustained streams of singing, he ventured into expanses of baritone drones and mutated guitar layer harmonies that stretched minutes into uncharted passages of time, overlapping one another and then fading away, directionless. Forty minutes later, after deep, gradual excursions into sonic abyss, he stepped off of the chair with little fanfare, acknowledging rounds of applause with a few subtle nods of the head. I give kudos to Lowe for having the balls to bring this kind of brooding meditative abstraction to an uppity Vancouver crowd.
Comparatively, Om came off as melodramatic and pompous. The depth of bassist Al Ciscernos' riffs and the subtlety of Emil Amos' huge percussion was impressive, but they failed to bring the same unifying energy to the diverse crowd, even with Lowe's ornamentations guiding them through their staid soundscape. Towards the end, Ciscernos had to demand silence to get even a minority of the crowd to get into it, pleading, "If you want to talk, can you go outside please." Eventually, after he was frustrated enough, he went with a more straight-forward "shut the fuck up." Om's synchronicity was enthralling at points, but Ciscernos' drawn out, monotone vocals and the band's general lack of vision for the set made their performance pale in comparison to the spirit of Lowe's ambitious improvisation.
There was a core set of fans grouped tightly around the stage for Om at all times, but things fell apart rather quickly once Ciscernos started demanding tokes of Indica and pontificating about how special the night was. To be fair, this wasn't the ideal Friday night billing. The pace and aesthetic of the music wasn't befitting of the let-loose-and-talk-shit mood that the crowd seemed to be in. It was obvious from the constant level of conversation, the number of PBRs being cracked and the amount of people standing outside in the rain smoking that people wanted to party. Om might have a legacy for inflecting rock with an undercurrent of brooding eclecticism on record (and with their old group Sleep), but their live show didn't have enough pull to tame an East Van Friday night.