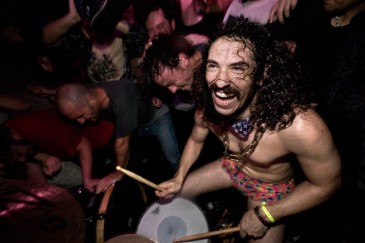 On Sept. 21, exactly one night after Rosh Hashanah marked the beginning of a New Year on the Jewish calendar, three wise men from the Holy Land brought a few hundred enraptured followers to a fever pitch, through the rites and rituals of a rock 'n' roll ceremony in a dark basement in East Van. It was a highly religious experience, and a great way to ring in the year 5770.

After a couple of raved-about Vancouver shows last year, anticipation was high as the Tel Aviv garage rock trio known as Monotonix made their return to town. The evening was ably opened by a couple of great (and disparate) local acts: the synth-electro-punk grooves of boy-girl duo MT-40, followed up by the swingin' garage-punk R&B blast of Thee Manipulators.
Then Monotonix's set began. As is their standard practice, they eschewed the typical stage set-up, opting instead to perform in the middle of the teeming, sweaty masses. The hirsute trio, sounding not unlike the MC5 and looking like outcasts from Frank Zappa's Mothers of Invention, maintained a remarkable energy level. Singer/insane bandleader Ami Shalev bounced around the dancefloor and the rest of the room in a tiny pair of red shorts. Beer, water and sweat flew and soaked the crowd. The drum kit was taken apart and re-assembled piece by piece on top of the outstretched hands of crowd members, while drummer Haggai Fershtman, also supported atop the crowd, battered out powerful, muscular rhythms.
If it sounds crazy, it was. But if you've been to a Monotonix show before, it was pretty much what you would have come to expect. That being said, this set was also (just a little bit) more subdued, (ever so slightly) in control, and on this night, more than the last time they played in town, you were able to hear actual songs. It was a wild night, and anyone seeking a reckless, crazy rock 'n' roll spectacle wouldn't have been disappointed. But this time, Monotonix also seemed to be interested in performing their songs in the midst of the craziness, and it worked well.