In late August of this year, Pukkelpop festival security guards assaulted Gang Gang Dance drummer Jesse Lee as he tried to go backstage without proper identification. After seeing the band play at the Biltmore on Sept. 4, we can confirm that the incident has not affected Lee beyond some superficial damage—akin to Walt Comiskey taking a sledgehammer to the Charlestown Chiefs' bus to "make it look mean." The ferocious and precise rhythms that form the bedrock of this experimental world beat rock outfit were in fine form that night, accentuated by Liz Bougatsos' distinct croon-meets-wail.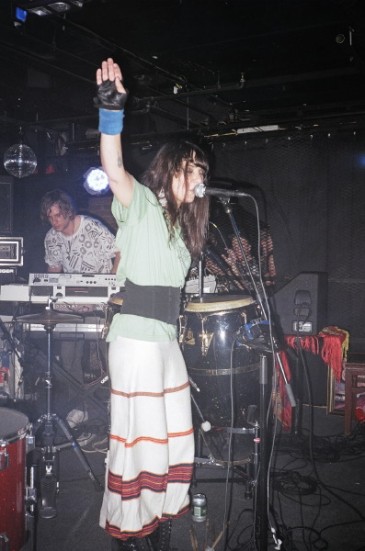 The fantastic "Egowar" from Gang Gang Dance's 2005 record God's Money quickly engaged the diverse crowd of tribal enthusiasts and jaded ne'er-do-wells, kicking off a set that was as fluid and seamless as it was eclectic. The centrepiece of the group's performance was everyone's favorite: "House Jam" from 2008's brilliant Saint Dymphna, which not only showcases the band's astonishing growth since starting in 2004 but also their accessibility. 2009's First Communion from the EP of same name further indicates that this band isn't running out of ideas and is quite capable of commuting between difficult weirdo jams and terrific hooks.
Local heroes Basketball got the crowd going prior to Gang Gang Dance with their own brand of quiver/quake tribal rock. After a year in Europe, the group has seemingly inherited bits and pieces of various continental sounds and has perfectly integrated them into their already unique output. And most people would agree that these guys are just getting warmed up.
Another local group, Machu Picchu, opened the show with a sneaker-gaze hammer of Thor set that got people talking. Jason Sulyma (My!Gay!Husband!) mans the drums for this band of competent Vancouverites—you can catch them playing around town in the upcoming weeks.