The elegance, clean lines and lore of a wind-powered yacht are difficult to disregard. Truly, there are few occasions when a motor vessel is superior to a sailboat. One such occasion, however, is a voyage whose journey is the destination: on a vessel whose passengers are higher than the seas. The event was named Das Boot after a 1981 German WWII film by Wolfgang Peterson about "42 raw recruits caught up in a war they didn't understand and the captain who must lead them in their struggle to survive." It required the Transport Canada-approved 370-person capacity of the 140 foot Atibi to be transformed into a rock-and-roll flotilla complete with a full wet bar, to contain the raucousness of the bands and recruits held within her hull.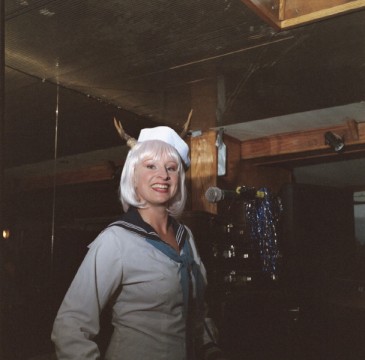 The concert line-up was hand selected by organizer Amanda Cochrane, based largely on the bands' pure entertainment value. Openers the Alley Bourbon Bootleggers sprinkled on the old-timey bluegrass flavour and managed to keep the crowd calm long enough to pretend we were motoring into international waters as we cruised under the Burrard Street bridge. As the captain of the ship made his rounds, Hank Pine, and the sweetest girl on board, Lily Fawn, took the proverbial helm and immediately took their performance to legendary levels by performing on stage with an actual topless mermaid. [ed. She had the tail of a fish!] As night fell and the sun set on English Bay, Grass City made sure things got heavy, proving that the best boats are, in fact, made of metal. Grass City definitely drew a large contingent of fans to the event—there were a lot of beards on board. MeatDraw was a natural encore for Hank & Lily, as the Victoria supergroup utilizes Lily's saw playing skills to complement the sounds, joy and spectacle of their live show.
In a city that has been so bereft of fresh venues, all on board appreciated this one-of-a kind event.