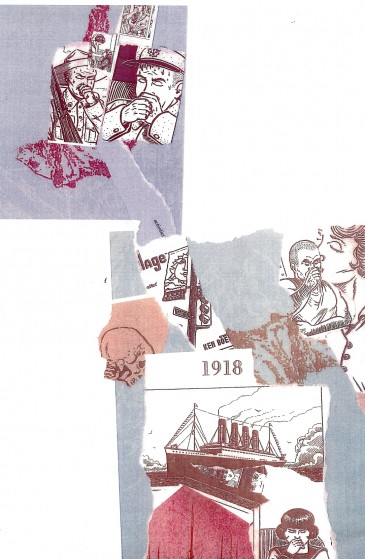 Since 1999, rumours of Canzine have itched the ears of zinesters, bookworms, and crafters across Vancouver. First came whispers of trade tables bowed with dirt-cheap zines, comics, and small-press books. Every year, more tantalizing rumours trickled in as Canzine spawned off-paper events: video
screenings, media panels, DIY demos, and a penchant for burlesque.
And every year, you wished a thousand paper cuts on Toronto for hoarding Canzine to itself, in a big hotel, 4,380 kilometers away.
Well, here is good news for leaden hearts: on October 16th, Broken Pencil magazine will bring the fi rst offshoot of its sprawling Canzine festival to Vancouver. Canzine West will be co-produced by the Western Front art collective, who have generously donated a venue for the festival in their space at 303 East 8th Avenue.
"It's not just a zine festival," says Andrea Gin, one of the lead organizers, "it's a whole independent arts festival. We're trying to encourage people to open up their tables to any kind of indie craft they want to put on them."
Alongside the zinesters, watch for Vancouver specials like a silk-screening workshop by Blim's Yuriko Iga, and unabashed readings from Arsenal Pulp's With A Rough Tongue: Femmes Write Porn. Too hot? Then hide your rosy cheeks for the panel talk "From Burlesque to Grotesque," a discussion of the controversial ways burlesque has been adopted by indie culture.
Andrea is also looking forward to zine-themed sideshows like the Ink Muffi ns Cheerleaders ("God Save the Zine!"), and the Seamrippers' 2005 Collating Championships (expect a long-armed stapler and lots of paper).
A few of the more than thirty exhibitors hail from Cascadia-at-large. Meet zinester compatriots from faraway Anacortes, see dioramas from Bellingham, and learn to DIY from the Seattle DIY Academy which taught summer courses on everything from how to cut your own hair to making biodiesel fuel.
Of course, the roots of this promising tumult are still in sharing zines.
Ken Boesem of Barking Raven Press is glad to have a new showcase with Canzine. He has shown his zines and comics at established venues like the Vancouver Comicon, and the Comix and Stories event at Heritage Hall. One of his zines even found its way to English Canada's most mainstream magazine, a fixture of every dental office I know.
"I drew it for SPX [Small Press Expo]," he explains. "The theme was travel, but I didn't want to do a travelogue." Instead, he drew ten striking pages, no captions, to track the global infl uenza epidemic of 1918. Boesem's 1918 also features reproductions of a Victory Bond and a public health poster, as well as a brief history of the outbreak.
"SARS was still a pretty big deal when it came out," he says, so he sent copies to every publication he could think of. Only two responded with reviews, the community paper in his hometown of Quesnel, and Maclean's.
Of a more textual and potentially petty character is No Pets, No Smokers, No Losers, a chapbook from Two-Star Press, who will also have a table at Canzine.
Inside are fi ve pieces on roommates, ranging from Andrew Kaufman's mea culpa, "Heather Randall, I'm Sorry," to the occasional indictment in Jason McLean's oral history of roommates past.
For example, the Karen entry: "She was a farm girl at one time and got a pet pig for the house—not a pot-bellied pig, but a farm pig—and brought it home and didn't tell any of us… She put hair all throughout the garden and even in the houseplants because it supposedly helped plants grow."
Zines like these are top shelf, but previous Canzines have shown off every kind of zinester, right down to the Kinko's kids. I remember seeing two sisters, 12 and 13, wedged between Winnipeg's Tart magazine and a table of ultra-goth daemon comics. They had cut-and-pasted glossy photos of hot Seventeen and Bop boys all over school notebooks and called them Crush.
Thanks to the Western Front society, admission is to Canzine is totally free, at a great venue, and most zines for $5 or much less. If you need an excuse to stay the whole day (it runs from 1-7 PM) , visit www.BrokenPencil.com and be a volunteer.
You really have no excuse not to come, learn a few tricks, go home and befriend a stapler.