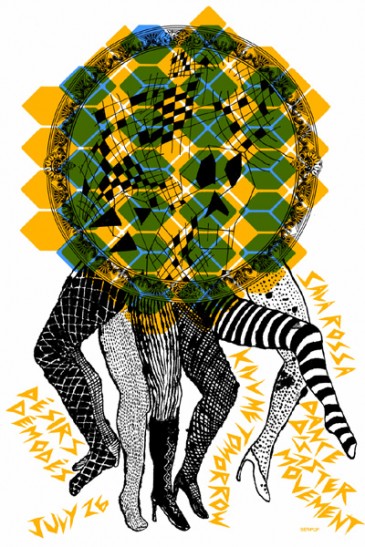 Serigraphie Populaire (aka Seripop) is to graphic design what Lightning Bolt is to noise rock. Which is to say that, in the field of
gleeful, day-glo violence, they reign supreme. The two-headed Montreal-based team of Chloe Lum and her partner, Yannick Desranleau,
produce up to four or five illustrations and gig posters every week, and since they work mainly for freaked-out punk and art-rock bands (Oneida, Acid
Mothers Temple, the Unicorns, and Wolf Eyes have all been recent clients), no one complains when the finished product is a nearly illegible riot of acidneon
colour palettes, trippy patterns, melting monsters, and scribbled, nonlinear text. Having first gained a reputation for the posters they designed for
their old band, The Electric End, they're now the poster artists of choice for virtually every group that inhabits the weirder limits of the rock spectrum,
and their increasing visibility has started to earn them illustration gigs for trendy publications like Tokion, XLR8R, and The Drama.
Seripop are hardly the glossy-magazine type of designers, though. They do all their work by hand with silkscreens and acrylic ink and they
describe their designs with words like "crappy," "messy," and "obsessive." They attribute their eye-burning aesthetic to "mental illness" and, while
they're happy to make a living from what they do, they admit that they're still dirt-poor, sick, and crazy. Self-proclaimed "freaks and dorks," Chloe
and Yannick rarely have time to actually go see the shows they promote. Instead, they spend their time running between their house and the library,
working non-stop, and getting in the van with their band, AIDS Wolf, who recently completed a grueling cross-Canada tour, spreading the gospel of
Freedom Summer. Said gospel endorses growing your hair, listening to metal and prog, playing bongos, and not wearing pants. No hacky-sack bullshit,
though. Chloe took time during AIDS Wolf's West Coast tour to answer a few of my questions about her music, her art, and the struggles of being a
life-force warrior.
Discorder: How long have you been doing AIDS Wolf?
Chloe: For a little over two years now.
How about Seripop?
A little over four years.
Did you go to art school?
Yeah, but my partner and I dropped out.
Where were you going? Concordia?
Yeah.
What didn't you like about it?
I found the atmosphere really stifling. I felt really frustrated by having so much
class time devoted to critiques of people's work. The only reason we were
really staying was for the facilities, but at some point we just decided, fuck
it, let's get our own gear and just get out of here.
Is there anybody you look up to, as artists?
Well, we're both really into Vittorio Fiorucci. He's originally from Italy—he
immigrated to Canada in the 50s—but he's been doing posters in Montreal
since the 60s: lots of bright colours, sort of weird, demonic characters. He got
kind of famous for designing the Just for Laughs logo. Some other people
that have influenced us are Saul Steinberg, Milton Glaser, Simon Bosè, Mike
Diana, Mark Beyer, Savage Pencil, Bob Gill, Gary Panter, Henriette Valium,
Seymore Chawst, Niklaus Troxler…outsider art in general, Archie comics,
candy packaging, MAD magazine, New Yorker comics, garden gnomes…
Do you do work aside from posters?
Yeah, we do editorial illustrations. We do all kinds of design and illustration. Gig
posters and album art just happen to be the biggest thing we do because
we're so involved with the music scene.
Are you interested in branching out into I guess what you'd call "gallery
art?"
Well, we've done a couple of shows of our posters, and we've got a couple of
shows in October, after we're done touring. The one we have coming up is
a joint show with our pal Gun Sho (otherwise known as James Quigley) from
Providence, Rhode Island. The show is called Masters of Panick and will run
one month at the Madame Edgar Gallery in Montreal (www.madamedgar.
com), October 20th to November 20th, and it will hopefully travel afterwards.
So we're building these pretty massive silk-screened paper sculptures for it,
like these big wasp's nest sort of things. We're also doing another series of
art prints, 2-D foam characters, shirts, monoprints and making masks. James
is doing a series of 300-plus drawings on cardboard and a bunch of art
prints and shirts. Hopefully there will be a book to accompany the show.
Some of your press releases refer to you as "life-force warriors." What do you
mean by that?
It just means that you devote your entire life energies to what you create.
Do you consider your music life-affirming?
I think so, yeah.
Do you think there's a connection between violent energy in music and
positivity in life?
Yes. I think catharsis is really important. You need to put your aggression
somewhere.
What do you want the AIDS Wolf experience to be like when people come
see you?
I like it when people join us on the same level as us. I don't like being an
entertainer. I don't like being on a different level than people that are there
to see the show.
Do you ever try to involve the audience in a show?
I don't believe in trying to involve the audience. I believe that if the audience
wants to involve themselves, they will. I don't want people to feel that they
have to behave in a certain way at our shows. I want people to participate
because they want to, not because they feel like they should or they're
being pressured to. I've always been really put off by going to see bands or
playing with bands who tell the audience to react a certain way.
About Freedom Summer—what happens when the summer is over?
We're gonna have to cross that bridge when it comes. We didn't know it was
Freedom Summer until Freedom Summer started. When Freedom Summer
is over, the next era starts.
You just have to wait for the world to unveil itself again.
Exactly.
What are your plans after the tour is over?
Well, we're going to be leaving again to go play CMJ, and after that we have
several different releases coming out: a split with The Fugue on Blood of the
Drash, our debut album on Lovepump United, a split with dmonstrations
from San Diego, and possibly a split with the Flying Luttenbachers.
When did you guys come up with name AIDS Wolf?
My partner and I were on a road trip in Ohio, and it just came to us. It was
a universal message. It's a combination of our spirit peers in An Albatross
(animal) and The Sick Lipstick (R.I.P.) (illness). It fits, because we're a little
bit no-wave and a little bit hardcore, like each of those bands. It's also a
message that we as humans must take care for our animal siblings as their
health is a barometer of our own survival.
Do you consider yourselves healthy people?
Yeah! Well, we try. We're all into swimming and eating vegetarian. We're
very wholesome.
Do you have any advice for aspiring designers?
Don't do it! Be an organic farmer or something. Everyone is a designer these
days, it doesn't mean anything. I feel like most design now is just hacky-sack
bullshit.
Define hacky sack bullshit.
Hacky-sack bullshit is anything that's not thought out, that has nothing behind
it: no purpose, no spirit.
You talk a lot about "getting in the van." What does it mean?
Have you ever read Henry Rollins' book, Get In the Van? You should. That's
where we got the whole concept of "getting in the van." It's not just about
being in a band. It's about anything from being a gardener to being a writer.
It's just about not wussing out. It's about doing what you do on the level you
want it to be at, no matter if no one else likes it. It's about spending all your
time on it. So many people say they're a certain thing, but they're not,
because they only spend 5% of their life doing it! To me, that is the definition
of hacky-sack bullshit. Like, someone who says they're a filmmaker, but they
don't make films. Or they'll make one 20-minute film and then going around
telling everyone that they're a filmmaker. If you're committed, you have to
breathe it. Being an artist or a musician or a yoga master or an athlete, you
have to do it every single day. You don't take days off. You don't take days
off from sleeping! You don't take days off from going to the bathroom! Like,
get in the van means that whatever you do, you take it as seriously as you
take breathing and eating and taking a shit. It's basically life or death.
You should also get, from the same publishing house, Rock and the Pop
Narcotic by Joe Carducci who used to work for SST records. I think it's a
really important critique of rock culture in general, both mainstream and
underground. This is a book that me and all the other guys in the band have
read multiple times. And Get In the Van is seriously a big influence on what
we do. Like, you have the story of all of Black Flag's grueling tours, and how
they keep their focus on their plan and how they want the band to evolve
despite the fact that all their fans just want them to be a hardcore band.
They're just getting hassled all the time, but they end up succeeding in the
face of that. The ending words of the book are Henry Rollins talking about
how he's just an average guy, not especially smart or talented, and I think
that's a really important idea to think about. A lot of people still think of
artists or musicians as these mystical unicorn-type creatures and feel that
they can't do that. It's all a matter of having a good work ethic and having
some ideas.
Seripop would like you to check out rad art by Keith Herzik, The Little
Friends of Printmaking, Bongout, Jelle Crama, Zeeloot, Matt Moroz, Keith
Jones, Monsters in Diguise, and Mike Deforge. They also recommend the
bands An Albatross, Athletic Automaton, and The USAISAMONSTER, all of
whom are "total long-haired freedom warriors."
For more info about Seripop and AIDS Wolf, check out:
www.seripop.com
www.gigposters.com/designers.php?designer=26758
www.myspace.com/aidswolf