They met me bathed in green and pink, stranded on a couch of legs. A table full of flowered balms, petals blue in green and crystaled goodbyes to misogynistic ties. 
"And then we met Venus"
Milena: So tell me about how this all got started. 
Tee: We had this really epic experience on the Sunshine Coast, it was a Spring Equinox cabin trip and a new moon, we indulged in some psychedelics and had this very beautiful experience with the cosmos. You could just see Venus so brightly, and we just downloaded the whole evening. After we got back it just kind of all just happened. It flowed so well. We knew exactly what our mission was, what we were trying to do. Our energy just sort of created a brand, so it's all very authentic.
Rosa: Yeah, "The Brand" is natural. It's literally what we were in nature. We kept joking pointing to little trees and plants and rocks being like, "Oh my God, look at this exterior designer."
M: What is NADUH's super galactic mission on planet Earth? 
Rosa: Okay everyone just say one word that's on the top of your head.
NADUH: FPE. Empowerment. Love. Paradigm shifting. Unity.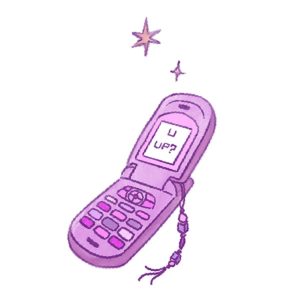 M: What helped you tap into your power, and how does FPE play a part in that empowerment? 
Rosa: For me, it's each other. I think supporting each other is what really made us come into our full FPE empowerment — and that's what we want to give other people too, we want to give them what we have.
Tee: Yeah or the experience of having like a ton of FPE like in one space […] that energy, when we come together as womb carriers, that is where the change is really going to happen. That energy is really potent and necessary.
Rosa: Also being shut down for so long — given the time that we're in, and that for hundreds of years women have been held down […] so what we're doing right now is very revolutionary. To just come together with the collective intention to do this healing work. That's definitely a huge part of this shift right now.
Tee: I think that's also a really beautiful thing. We're not just rebelling, but what we're doing differently is we're trying to heal and help others heal. That's the energy we're trying to emit — even though our bars can be dumb sometimes.
NADUH: *collective boisterous laughter*
Tee: And healing can be fun, it can be joyful, and I think it's a huge part of it. Although we can also be very serious too, you know, music is playful and expressive.
M: Are there any rituals you do before you go on stage or do in prep to enact this energy? 
NADUH: Rituaaal!! You said the magic word!
Jenny: We have so many things we do. We ritualize pretty much anything. To do something right, something that expresses ourselves or brings our energy to other people, we will make sure to take certain steps beforehand. Some of those things include: crystals, readings, tarot, oms, affirmations, meditation — we love blue lotus and heart-opening tinctures. Cannabis. Santa maria. And cacao is like, wow.
M: You write, produce, and perform all your own songs — what does the collaboration process look like from pen to paper and paper to production? I'm interested because I noticed you guys finish each other's sentences and I'm wondering if it's similar when you're writing?
Tee: It's nice because if you get stuck on something, and you're like, Oh, this is almost there […]
Rosa: […] it's one mind plus five amazing minds. You know, all the best plays were written by a collaborative team.
Jenny: Tee also has this book of beats because this girl's an animal.
Giorgi: Every time I facetime her she's in the studio — and I facetime her like every day.
Jenny: She usually sends us this boatload of beats, and then whenever we are up to the task of writing, we'll get together and just listen to them all until we feel one.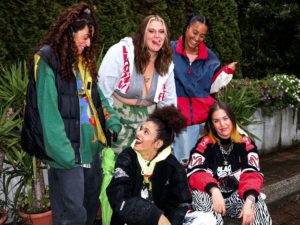 M: How do you make sure that every individual's artistic needs are met? 
Rosa:  We communicate and talk so much — I feel like we have to make and hold space for each other because it's five people at five different flows. I think we're also realistic. There's no way to make every single person [involved all the time] but we can come to an agreement. That's what makes it beautiful.
Some of the group's influences are Destiny's Child, earthgang and Morcheeba. I'm thinking: Kill Bill meets new-school. Old-school meets Neo. Oshun.
M: Where do you go to be inspired? 
Jenny: Mostly life for me.
Giorgi: Yeah, so much shit going on right now.
Tee: If I'm uninspired, it's usually because I'm being too clinical. So I'll just fuck off for a bit and focus on trying to get inspired. I've noticed that it feels like I've been chilling, but I'm just getting re-inspired for the next writing time.
Jenny:  The beautiful thing about having five people is sometimes all it takes is one person to be really inspired, and that can be the inspiration for everybody else.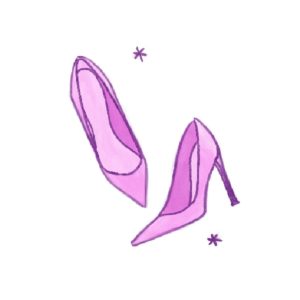 M: Can you describe to me what divine feminine energy means to you?
Jenny: Man, you tickled my heart when the words came out of your mouth. I just felt that — I'm sorry.
NADUH: It's a complete flow. Complete receptivity. Nourishment. Passion. Sensuality. Surrender. So many things.
Roaa: It's your sisterhood you know? Healing and trying to heal the world. Being that womb space for everybody.
M: Can you tell me about your latest single, "CURRENCY"? 
Jenny:  It was a fun nod to Aretha Franklin but also Destiny's Child's because we were thinking about Bills, Bills, Bills and all these songs about being owed, or feeling entitled to that cash. We wanted to play on that, but to us the cash is respect and loyalty — and honouring us. So it's more of an emotional currency that we want to talk about, while still being sassy.
x
A womb to carry chords that cradle, a lotus springs from a navel. Trading voice notes as love letters to each other — it happened under a full moon.
A magnetic pull, their friendship, comradery and pull to each other was an effortless ebb and flow, magnetized by the moon, conversing with the sea, jamming with the stars. 
You can keep up with NADUH through their instagram @its.naduh and website https://www.itsnaduh.com/. As well as their personal accounts @larisasanders @jennyleaimur @giorgiholiday @bbybooda @teekrispil.