As part of the Chaotic Music Meetings live performance series, Vancouver/California band Fake Fruit dropped by for an afternoon show and interview with CiTR's Music Director. Check out the full audio of the show below! 
x
"They're running late, so watch for some folks who look like they might be in a band," says CiTR Music Director Myles.
I scanned out beyond the station into the hordes of students, looking for any amp-burdened figures slumbering towards me. The mess of cords and microphones in the cozy front entrance of the CiTR lounge made me wonder, anxiously, just how hectic this 'Chaotic Music Meeting' might be.
But when the band members poured into the room, warmly introducing themselves and apologising profusely, I could tell right away that Fake Fruit is a band that's anything but chaotic. With drummer Miles parking the car, and bassist MJ putting on his raincoat to fight the chill, all nerves I had about meeting and reviewing the band flew out the window. They come across not as the elitist 'Californian band' I had fabricated in my mind, but as a down-to-earth group focused solely on their music. The sound check, although interrupted by some unknown hissings, was incredibly tight: the group impress instantly as a cohesive whole, playing off each others' sounds comfortably and beautifully.
From the initial frazzled entrance came a wonderfully full and fruity set, turning the heads of students passing by outside, and filling the small space with a powerful, colourful sound. My futile attempt to jot down any notes was interrupted as I sat captivated by the riotous and layered noise. Each member played with a whole-hearted intensity. Despite having another show at Redgate later in the day, Fake Fruit held nothing back and spared no victims in their killer live music meeting. As I sat perched on the small couch directly in front of the band, lead singer Hannah's vocals were intimate yet commanding. Dressed in a mechanic's shirt, she reminded me of a train conductor, with the band as the wheels of the machine — leading me into a fiercely rich and distorted dream.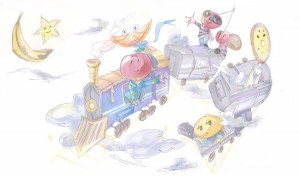 Songs varied between impatient punk verses, perfectly raucous and invigorating, and more melancholic, dreamier pieces. Drummer Miles' hard-hitting touch vibrated through the couch and into my body, adding the groovy intensity which makes Fake Fruit's sound so exhilarating. They manage to articulate the optimal amount of distortion to keep their sound hazy, without being overwhelming.
When the band breaks to sit down for an interview, the conversation turns toward Fake Fruit's Californian reinvention. Reflecting on her move south, and on having to create a new band under the already-established Vancouver name, Hannah came across as a strong, unifying force, yet one which works in perfect harmony with her bandmates. It came as no surprise to learn that Hannah's curation of the band had brought all three other members (Alex, MJ and Miles) out from a sort of musical hiding, and into the local scene. MJ and Miles had only been 'at home musicians' prior to the new line-up's formation, and Alex had taken a prolonged hiatus from performing in public— yet together they sound remarkably practiced and tenacious.
Having led a rather bi-coastal life, Hannah amazes as something of a musical entrepreneur: curating wonderful projects wherever she may inhabit. Between chatter about the powers of Taco Time and which sorts of entertainment occupy them after copious time in the the car (a crazy prank call show, surprisingly enough), Fake Fruit appear as a family unit: just four friends enjoying the music they make, no pretension needed. Although self-describing the in-house performance as 'frazzled', the band was anything but; it was a wonder to behold how they were able to fit so much passion into a 20 minute set. It is safe to say that their performance for CiTR is highly listenable; they will transport you into a land of fruity punk and distorted emotion! 
Listen to the show for yourself here:
and, if you like what you hear, be sure to keep up with Fake Fruit via facebook and bandcamp!