Sometimes it takes a pair of fresh eyes to notice a problem. For Ryan Rosell, leaving Vancouver to move to Berlin three years ago presented a host of challenges: integrating himself into a new city and society, adapting to the capital's listless pace of life, and finding more to do than just washing dishes. But this transcontinental shift also put Rosell in an interesting position: as a dedicated member of CiTR 101.9FM both during and after his tenure at the University of British Columbia, he sought the kind of cohesive music community he'd known in Vancouver, and was surprised when he didn't find it.
"When I first arrived, it took me a few months to even figure out that there was live music happening within a community of people," he says. "The music scene in Berlin is really strong, but it's dispersed into a bunch of different neighbourhoods and microcosms that don't interconnect at all […] I went to a few shows where I saw a poster on the street or whatever and I checked it out, but there was no central place, or even a venue that I knew of, where you could just go and meet people who were participating in the music scene."
After half a year of going to shows without feeling a sense of camaraderie or making connections, Rosell's luck changed over the course of a night.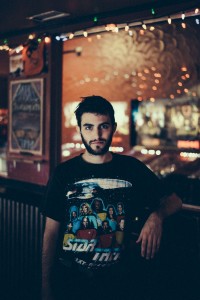 "I was at a bar and these two French guys were DJing. They played the Apollo Ghosts and I kind of shit my pants a little bit," he laughs. But hearing his favourite Vancouver act in a distant land was enough for Rosell to know he'd found his entrypoint into Berlin's cryptic music community.
Thanks to that "freak accident" (and Adrian Teacher's winsome songwriting), Rosell crafted a project with the likeminded individuals he had begun to meet: a community outlet dedicated to expanding, promoting, and better connecting Berlin's diverse music milieu. Within a few months, The Chop was born, and over the past two years Rosell and "The Chop Squad" have grown their initial idea into a monthly magazine that combines a concert calendar, band spotlights, featured shows, horoscopes, and his personal favourite, the sardonic recommendations column "Top of The Chop."
Notably, The Chop is dedicated to featuring projects by women and female-identified people in at least half of its content, and strives to achieve language plurality between German and English when possible, although Rosell admits achieving that kind of equilibrium has been tricky.
"We axed the quota for the reason that, right now, our focus is quality and improving the quality to make The Chop as good as we can," he says. "The reality is that most of the people who ask to write for it, ask to write in English. But if you want to write in German for The Chop you're more likely to get a spot, because I really want to have that included."
In any case, the response to the magazine has been overwhelmingly positive, and The Chop has quickly become a fixture of the city's arts community, with a growing cohort of volunteer contributors and fans alike.
"People read it now, which is cool," Rosell laughs. "It took a year and a half, but I think people actually take them home, and read them, and keep them.
Ironically, the response Rosell keeps hoping he'll receive but hasn't yet is the last thing you figure he'd want: hate mail.
"I would love to have some more haters," he grins. "The Chop is like my child; it's like my family now. It's like, if you talk shit about this, you're talking shit about some good people — people who are making this community magazine for free — so you're going down if you do that. But no one's done that, so it's just a little fantasy I have in my head."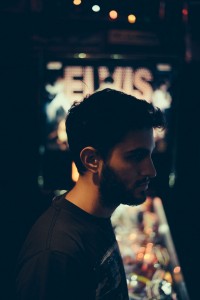 Maybe it has to do with being a transplant to Berlin, but you can tell that Rosell referring to The Chop as his family isn't just a throwaway line. Despite being the magazine's editor and founder, Rosell showers praise over the efforts of The Chop Squad with such earnestness and awe that it's easy to forget his role in its production.
"The most important job that I've done at The Chop, and the reason The Chop exists, is because of the people I've found to work on it," he remarks, and it's advice he recommends to anyone trying to undertake a project: "Find people not only that do the job well, but that you care enough about it that if you fuck it up, you're letting them down, and then you just do it because you don't want to disappoint people that you care about." He laughs, but you can tell he's not kidding.
Going forward, Rosell notes that The Chop is undergoing a series of changes he hopes will make the magazine more enjoyable for himself and for readers, aspiring to make it more accessible to those outside of the music community that might be looking for an avenue to get involved. A full graphic redesign is in the works that will help navigate the inclusion of more visual artwork, illustrations, and photos; Rosell also hopes to incorporate more creative articles and publish new voices.
As Berlin's music scene continues to expand and its community becomes increasingly interlinked, there's little doubt that The Chop will be anywhere but the forefront, championing the cause.
X
Going to Berlin soon? Check out The Chop online at thechop.de, and connect with them on social media.