I arrive at the location, a small gallery on the corner of Hastings and Carrall known as the Interurban. An iPad fills the room with Charleston-inspired tunes from the 1930s. Everyone has a pumpkin in their hands, diligently chipping away at carving and decorating.
Right then, I knew I was exactly where I was supposed to be. This is Super Cool Tuesdays, also known as Contemporary Arts 101. Twice a year, in weekly six session blocks, a drop-in speaker series takes place at the Interurban Gallery on Tuesday nights with Downtown Eastside residents. Each week, a different Canadian or international artist is invited to present at the series. The artist shows their work, describes the process behind it, and occasionally gives an artistic assignment to the audience. The audience of Super Cool Tuesday are open and keen participants, happy to engage with any form of art, whether it be visual or performance based.
Adriana Lademann is the coordinator of Super Cool Tuesday and a visual artist. She gives a lot of weight to the value of art and has seen the difference it can make. "Super Cool Tuesdays gives [people] a space to be themselves."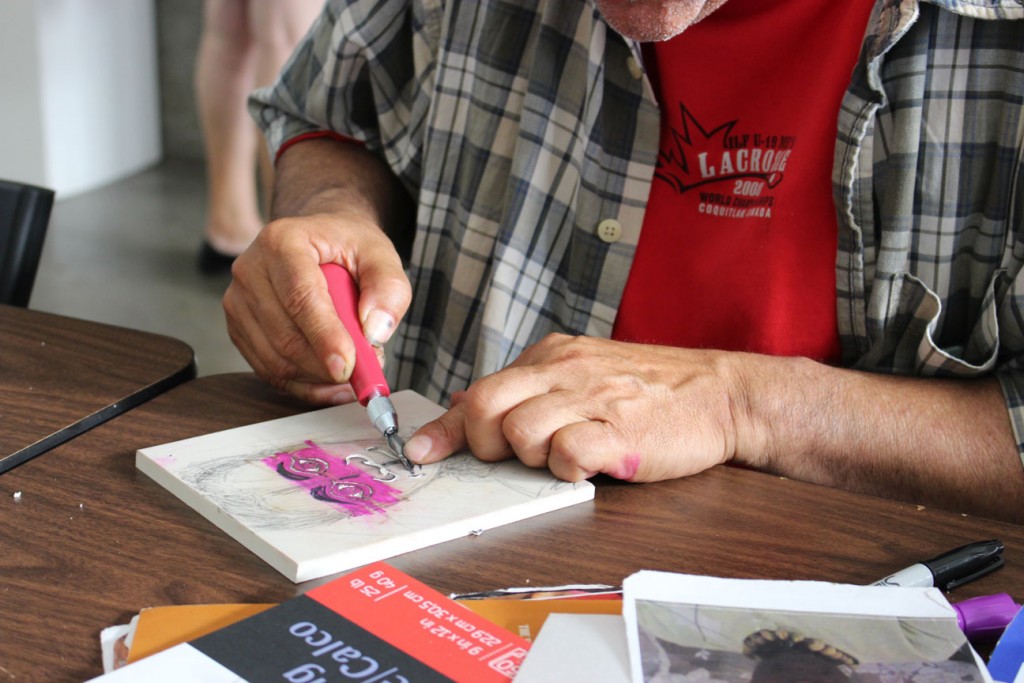 Lademann doesn't do this work alone. Dean Wilson is a long-time Downtown Eastside activist, supporter of Super Cool Tuesday and a volunteer of the Drug User Resource Centre (DURC). He helps Lademann by promoting Super Cool Tuesday within and around the community.
"The people have really taken to it," Wilson says. "We've had an incredible array of artists, performing artists, painters, recording artists, all different kinds, and I haven't heard a bad word from anybody about any of the courses."
The project was started in 2011 by Am Johal with SFU's Vancity Office of Community Engagement in partnership with PHS' Drug Users Resource Centre (DURC)  — over the years, it has included guest artists such as Ken Lum, Amy Kazymerchyk and SFU art professor Sabine Bitter. The project was then curated by student and SFU Community Engagement employee Andrea Creamer for four year, during which time Jeneen Frei Njootli was invited to present and Tin Can Studios had a popular residency. When Creamer left to attend grad school in Toronto in 2016, Lademann took the reins. The program has been consistent for over five years now.
At the time of the initial partnership between SFU Community Engagement and DURC, DURC was a low-barrier drop-in centre for folks in the Downtown Eastside serving up to 1,500 clients a day with its facilities and programs. Last year, DURC lost its funding from Vancouver Coastal Health, which resulted in the closure of its physical location.
"Many [Super Cool Tuesday participants] come from very broken places, myself included," Wilson says. "When we give them an hour of some peace and quiet, and some intellectual stuff for their brain, it's the best result we can have," he adds.
Both Lademann and Wilson note that accessing contemporary art can be particularly difficult for folks living in the DTES. "To access art can be difficult for somebody with financial or health barriers," says Lademann.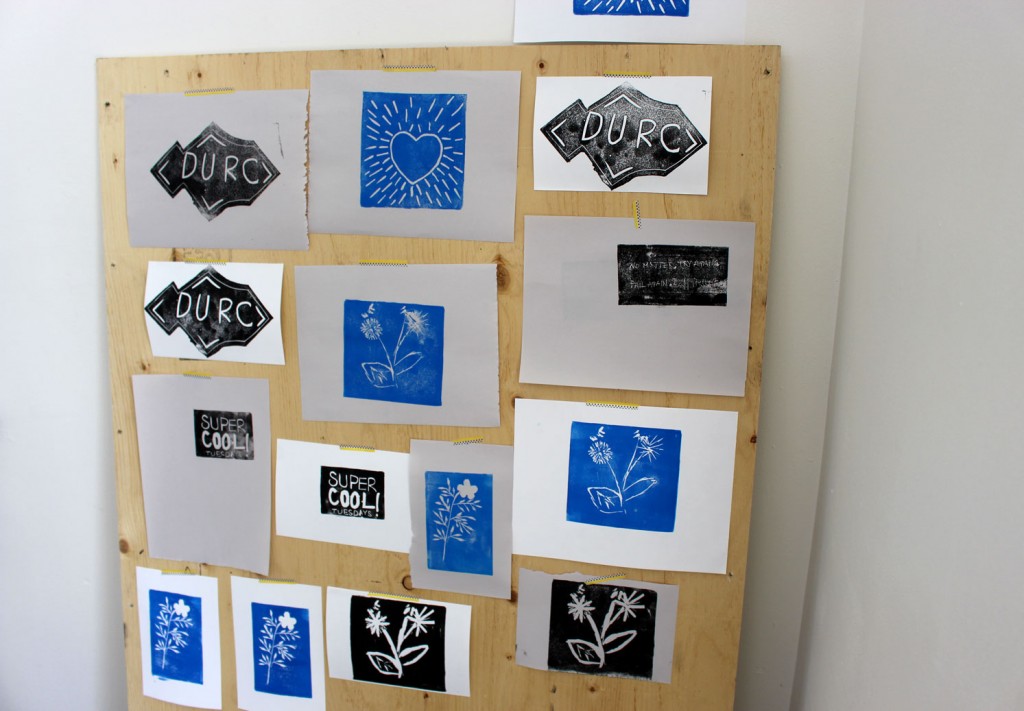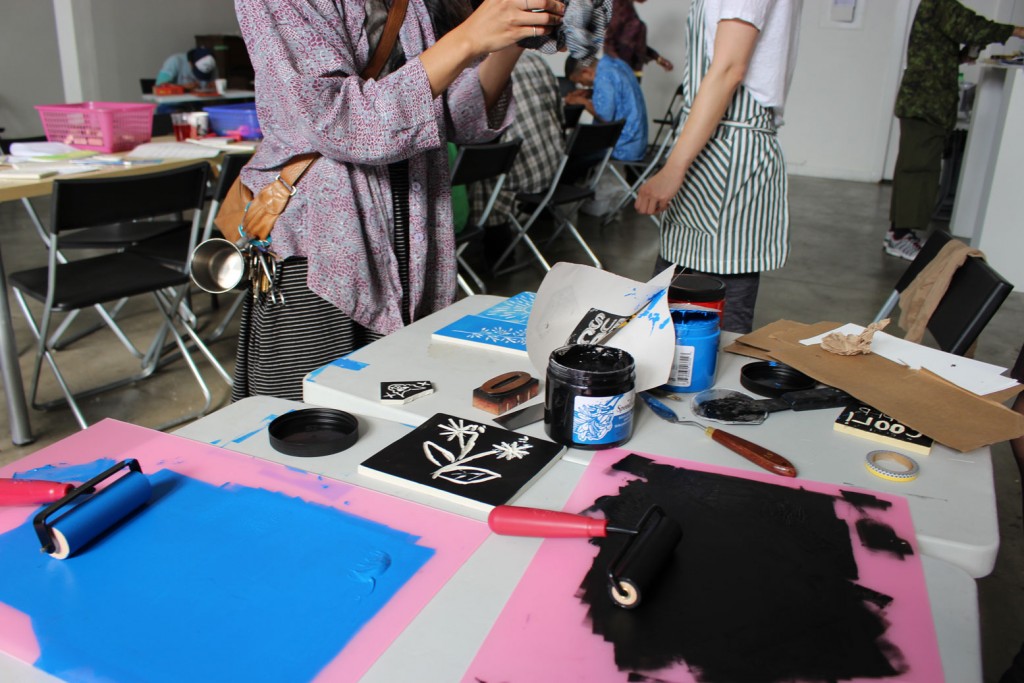 Larger art galleries can be discriminatory places for DTES residents, who may not be able to afford paying an admission fee, or may simply feel uncomfortable being in institutionalized spaces. Wilson explains, "People in the Downtown Eastside don't feel good about going uptown to [see art], they feel they are shunned. And many times, they are."
You definitely don't get the sense that Super Cool Tuesday participants are uncomfortable in this space, however. One participant smiles as he applies the finishing touches to his pumpkin. "I never carved pumpkins as a kid but now I wish I did, it's fun!" he exclaims.
But Super Cool Tuesday is not just about the participants. It's also about exposing artists to a new audience for their work.
Jeff Hallbauer, is a painter and sculptor. He got involved with Super Cool Tuesday through Lademann, and leads the pumpkin carving session I attend. Though initially daunted at the prospect of creatively engaging participants for a full hour,  he now considers it refreshing from his usual environment. "I find the commercial art world can be dehumanizing and very capitalistic," he says.
When asked why he chose pumpkin carving for this session of Super Cool: "It's good to just connect with people," he says. "I prefer doing art as a social practice because it's a more collaborative process."
The session wraps up. When I ask a couple participants if they will return to Super Cool Tuesdays, they say they will. "It's good for your spirit," says one.
The lights go off, transforming the carved pumpkins into beautiful, spooky Jack O'Lanterns.
On my way out, I ask Dean Wilson what he really wants people to know about Super Cool Tuesday. "Look, people in the Downtown Eastside can enjoy the arts and I think that more people should try and bring it into the community."
X