Psych as a genre had its auspicious beginning in the early '60s, as L.S.D. and consciousness raising swept over philosophical, social, academic and artistic spaces. Music, too, was forever altered by this wave of psychedelia. Rock, folk, jazz, country and, of course, the blues were influenced by this tsunami of experimental hijinks that reverberates, literally, to today. Psych Fest III embodied the psychedelic theme by blending and bending surf, punk, rock, doom, blues, alt–country, and noise all together in different measures. I found some of the unsanctified great grandchildren of this movement playing their instruments, mixing it up, and dancing it out.
Sixteen bands rotated between three stages in Fortune — one stage great, and two terrible. The people were a mix of beardos, hoodies, jean vested, the leathered, the sweatered, the up-do'd and the dyed.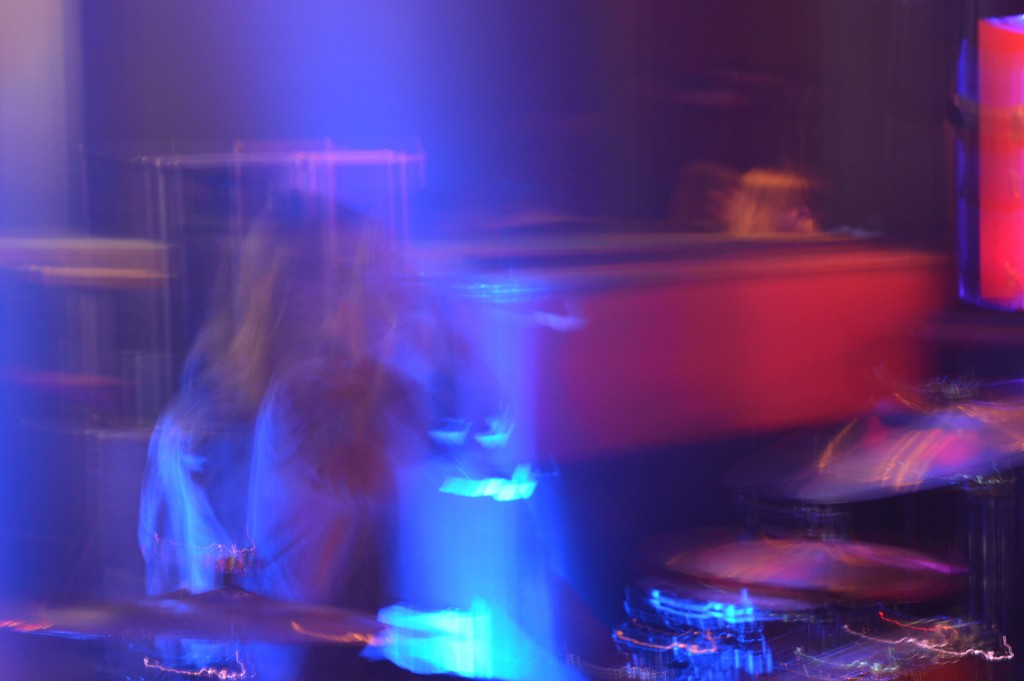 I was in time to catch a set by Vancouver-based Hallow Moon. If you haven't checked them out yet, and you like hip-swinging bluesy groove dream folk-rock, go check them out immediately. I think bassist Daryl Leiffering might have been playing an electric ukulele — I didn't even know that was a thing.
My only real complaint of the night was the second stage set up. On the third level of Fortune, the second stage was on the floor, surrounded by a divider and benches with a tiny break toward the dance floor where the front row could squish up against the "stage," five people wide. You couldn't really get a good look at them unless you were pressed up against the barrier on the sides. The people always passing by to go to the bathroom were a distraction to the music.
Next up, was Arizona's psych-noise-punk band Destruction Unit. Faithful to the psychedelia descriptor of the genre, their concept cacophony was high and under the influence. The five members deftly deconstructed their music and made sound manifest chaos. They played through a half wall of Fender and Marshall amps, and they played loud. Even though I couldn't make out any more than the shadow of the drummer, I could, however, hear their groove woven through it all.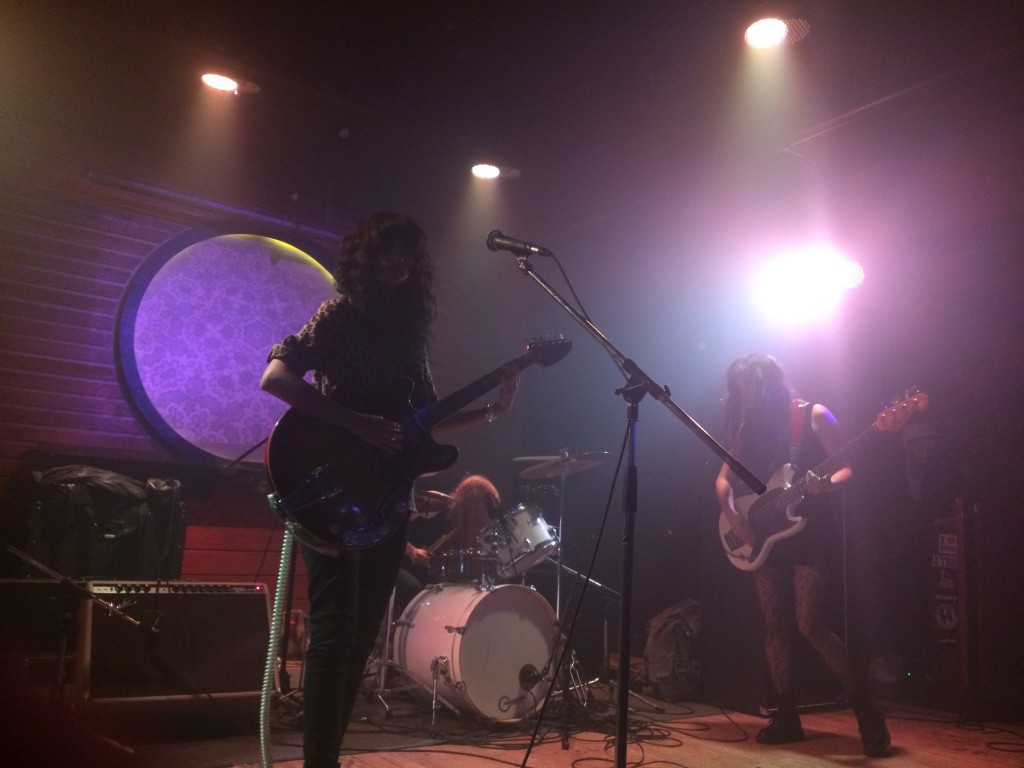 The Vancouver garage band, Dead Ghosts played next — after I heard them play, I forgave them for the tautology of their name. They played out of the awkward fish tank that was Stage Two. Touted as lo-fi garage country and sometimes compared to the Black Lips, I discovered Dead Ghosts were more original than their critics give them credit for. I did find my body moving forward and back to songs I'd never heard yet somehow knew. The restlessness of the day had fallen away, making room for dancing and general merriment to be had by any on the dance floor.
Then there was L.A. Witch. What a band! By the time they got to the song, "Drive Your Car," I was mesmerized. (In fact, I've played the song at least fifteen times since.)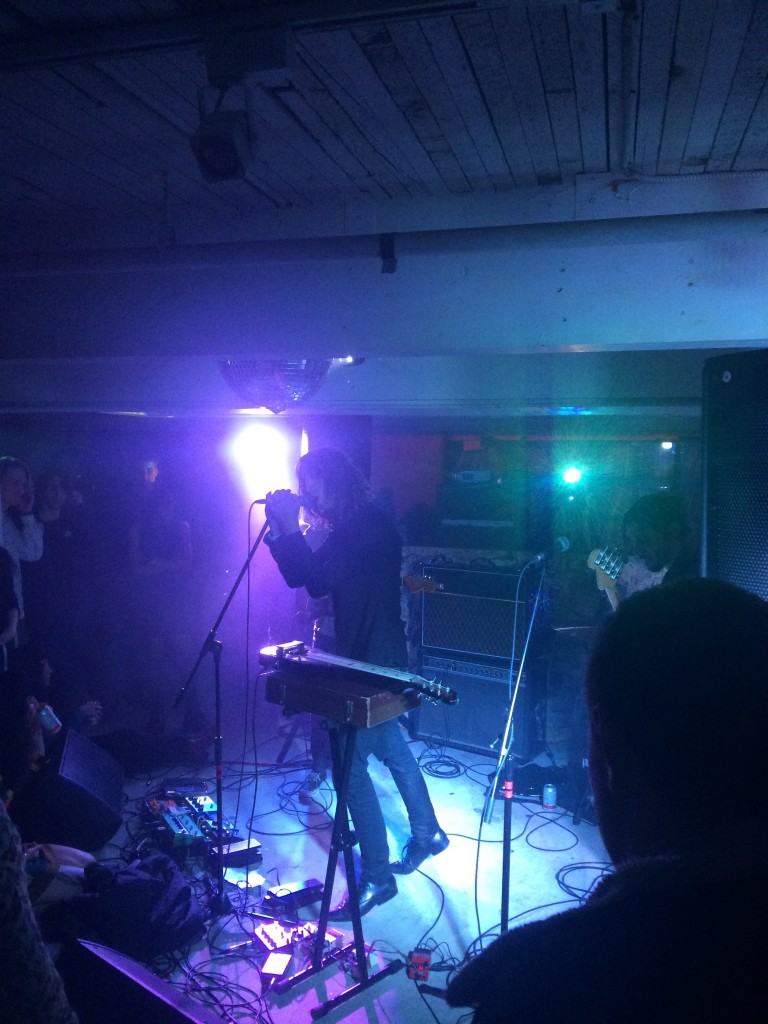 To be honest, I didn't want to tell you that they are an all-female band because that distinction is so problematic, but fuck it. These women knew how to the hold this male dominated psych-space. Bassist Irita Pai and drummer Ellie English sustained the three-piece while Sade Sanchez threw down vocal distortion and dirty dissonant notes on her guitar. Link Wray himself couldn't have asked for better reverb junkie twang. L.A. Witch was on the stage, making their own music, haunting the post-surf punk rock corridors like they had forged them in the first place.
Vancouver's The Wandering Halls, were the last band to play after we were all ushered down the stair to the sub floor. The vibe from upstairs did not translate to the sub floor as the evening grew short. During their opening number, "Mirror Talk," the bouncers and staff from upstairs were frantically coming and going trying to get everything ready for the second shift of the night. With nowhere to sit, lean, or look and with a terrible stage sound, I bailed two songs in. I had no mind or mood altering substances surging through my body to buffer the adventure. However, many did, and many stayed, and I hope they had a safe and experiential journey home.