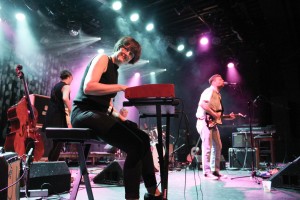 Destroyer and Frog Eyes are both the kind of bands that are geographically nebulous, even to the people that share a city with them. Although respective frontmen Dan Bejar and Carey Mercer are both long-time locals (Bejar from Vancouver and Mercer originally from Victoria), their multitude of musical groups, including collaborative effort Swan Lake, have never taken on the somewhat narrow label of "Vancouver band." Whether this has been an unconscious result of their mutual success outside of the Lower Mainland, or a marked decision to avoid being typecast, watching both bands play at the Commodore Ballroom invoked a special blend of hometown pride and small town envy in much of the audience. Luckily, the stage returned some of the best bittersweetness to the crowd in stunning performances dripping with talent.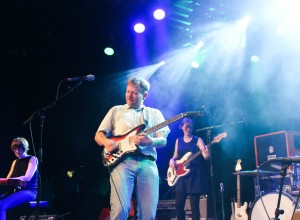 Unfortunately for the fashionably late concert goers, openers Dada Plan performed exactly on time, meaning this reviewer and plenty others besides missed out on the local group's opening act. Really the only logical choice to start such a night of Vancouver power bands, Dada Plan are about as "Vancouver" as it gets. Fronted by Malcolm Biddle, the brainchild of past Vancity megabands like Sun Wizard and Capitol 6, the five piece psychedelic-tinged jazz-pop aren't an old ensemble, but have already gained a passionate following for their bizarre stage presence and eclectic instrument choices, mixing synths and upright bass with equal parts conga and drum machine. It was a shame to enter the venue just as the band was tearing down, and an even bigger shame to see just how roomy the Commodore still was before Frog Eyes' set.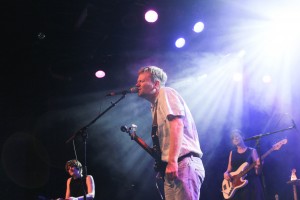 Performing just off of the band's most accessible releases yet (and easily one of the best), Pickpocket's Locket, Frog Eyes went above and beyond to deliver a regrettably compact, but nevertheless powerful and evocative performance. Carey Mercer greeted the crowd by way of an apology, explaining that although he is usually fairly talkative in between songs, the band had decided to cut out most of the ramblings in favour of, simply, more music. To any audience, the promise of more songs in a shorter time isn't one to be met with melancholy, and considering the fairly strict time limit to the band's set, it was probably the right decision. Still, the two contrasting and remarkable sides to Mercer as he switches between conflicted visionary barking pained operatic literature, and humble and serene speaker, are so fascinating to observe that it seems like a shame to have seen a toned down version of the latter.
Regardless of the format, Frog Eyes were not only unforgettable but completely mesmerizing, occupying the stage of the Commodore more deftly than bands twice their size. With a few choice offerings from Pickpocket's Locket, plus a handful of older songs and fan favourites, the group covered remarkable ground before the end of their runtime. Bombastic, terrifying, and utterly poetic, Frog Eyes left an impression inches deep on the minds of their listeners.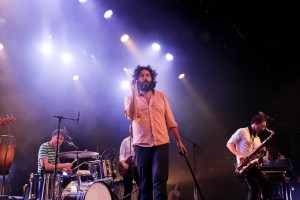 Latecomers that barely missed Frog Eyes' set, or were too nervous of Carey Mercer's impressive presence to move towards the stage, moved forward as if invited by Destroyer's promised warm presence to occupy every nook and cranny left in the Commodore before the band ever graced the stage. It was easy to understand why so many wanted to be so close to the stage for Destroyer's long-awaited local gig—from the first sickly sweet note to the last graceful flourish, Dan Bejar and his amazing group of destructively talented individuals were warm, intimate, and breathtaking. Touring to support Poison Season, the follow-up to 2011's critically lauded Kaputt, the band leaned heavily on newer material to supplement a catalogue of music nearly a decade old.
It can't be emphasized strongly enough how much of an ensemble cast Destroyer has become in recent years. Featuring local heavyweights like JP Carter (Inhabitants, Fond Of Tigers, Dan Mangan) and John Collins (JC/DC, The New Pornographers), it came as some surprise to first-time listeners in the crowd just how much focus was on the instrumental side of songs that, on record, may have relied on Bejar's unique voice for glue. The frontman took regular pauses to let the musicians flanking him flourish, literally taking a knee while the band coaxed a five minute ballad into an explosive double-length orchestral movement, replete with trumpeted crescendos, saxophone wailing, and a musical intensity that no one in the crowd really expected.
By the end of it all, the whole venue was lit with a post-coital glow of energy and warmth. Dan Bejar's collected cool gave way to a flood of emotion wrapped in artistic integrity, and I think that the band as well as the crowd walked away having glimpsed something really, truly special. Things were about as "Vancouver" inside the Commodore as they're ever likely to be, but this wasn't the city of pouring rain, noise complaints, or gentrification its denizens' complaints had gotten familiar with. It was something far simpler, more inviting and far more special.