It's not often Vancouver concertgoers arrive in time for the opening set, let alone in advance. But October 10 at the Rickshaw saw folks patiently lined up in advance of the 8 p.m. doors. The halfway point in a short seven-show double-headlining tour of Ariel Pink and the Black Lips, the night promised to be a heavy hitter, and it did not disappoint.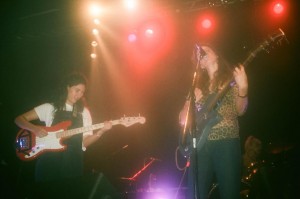 By the time Spanish four piece Hinds kicked off their opening set, the Rickshaw was already filling up for what would be a tightly-packed night. And it was a good thing, too; though they drew fans of their own, Hinds doubtlessly made a few more from the crowd who arrived with nothing but the double headliners in mind. Though their first few songs suffered from some audio level issues, Hinds quickly hit their stride with all of the peppy energy that they've recently become known for. Continual calls for more songs allowed them to tack on an extra two, closing with their energized cover of Thee Headcoats' "Davey Crockett."
Setting up in front of a sheet adorned with their name in spray paint, the Black Lips were next up.. A vigorous mosh pit quickly formed. This could not have been particularly comfortable given the heat emanating from the already closely packed bodies, but no one seemed to mind. Singer Cole Alexander's chilled out demeanor seemed to control the crowd, lulling them into feeling the same way. Joined by Zumi Rosow on saxophone, they laid out tracks from their latest effort Underneath the Rainbow along with older favorites. The crowd got particularly tumultuous as the first few chords of "Bad Kids" rang out, the mosh pit seeming to extend through the crowd.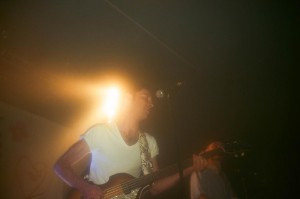 Ariel Pink's polka dot-spattered set came last. Aware that his 11:30 start time was somewhat late, Pink frequently thanked his audience for hanging around. He also complimented the interest in moshing, the first of many moves with which he would win the crowd over. Part of the appeal of an Ariel Pink show seems to be the question of whether or not he'll have a meltdown – at least, speculation about this could be heard amongst the crowd throughout the night. But no drama was to be seen – Pink and his band Haunted Graffiti were nothing but solid and entertaining, mostly playing tracks from Pom Pom and 2012's Mature Themes. Encoring with the contemplative "Picture Me Gone," Pink and Haunted Graffiti ushered the masses back out into the crisp fall night in a buzzy haze.
In the midst of Vancouver's notoriously moody concert scene this night was marked by the crowd's eagerness, excitement, and positive energy. The audience seemed ready to forego comfort for the sake of the music, and it was well worth it.