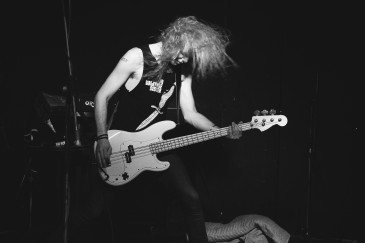 Only at an event like SHiNDiG will you see folk, post-hardcore, and surf punk bands grace one stage in the same night.
Tuesday, November 25 kicked off with the lush atmospheric soundscapes of Alea Rae. The threesome wove together a collection of intricate tunes set atop of droning guitar and punctuated drumming. Jumping in with new material from their recent split single, the group turned out folksy progressions with sweet ambient swells that would roll out over the crowd right before erupting into phrases of an expansive brand of baroque pop.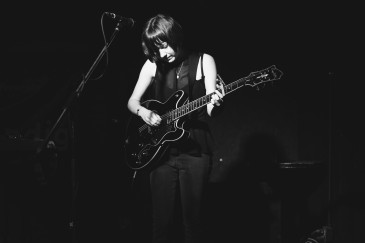 Though their entire performance was marked by introspective lyricism, it was the emotive, ringing build of "Lancaster" that proved the trio fit right into the Vancouver scene. Mixed together with a dry, endearing banter, Alea Rae's performance was easily the highlight of my night.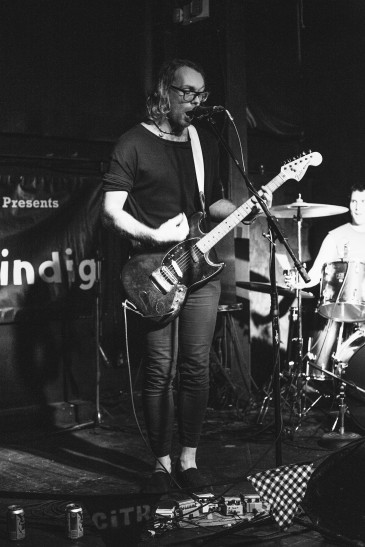 Taking the second slot of the night were Poles. With songs that were short and tight, the trio crafted thick waves of doom-rock that confronted the audience like a perfectly aimed punch to the gut. The lead singer rasped out his tunes with a cluster of gnarled out growls, blissfully unafraid to thrash about the stage, often ending up with his back to the floor, ripping away at a series of destructive riffs. Moving through their pounding tracks, Poles shook and shuddered through an impressive set, though perhaps none other quite as hard as "Pest." Wonderfully unrelenting, Poles seemed perfectly at home on the Hindenburg stage.
Closing out the evening were trio Scotty P & The Virgins. The boys offered up a heavier brand of surf-punk, setting the tone with off kilter harmonies and hazy distortion dotting their tunes. Even though frontman Scotty P had an infectious, speakeasy kind of drawl that quickly endeared him to the crowd, it was only three songs in that things took a turn for the worse. A guitar string down, Scotty P still slayed on a fuzzed-out solo over the blues-tinged vocals of drummer Jordan Van Thunder, but implored the other bands of the night to borrow a guitar so he could finish his set. Met with an uneasy silence, aside from the quiet mumblings of Scotty that "Nothing's gonna sound fuckin' right," the group had no other choice but to trudge on.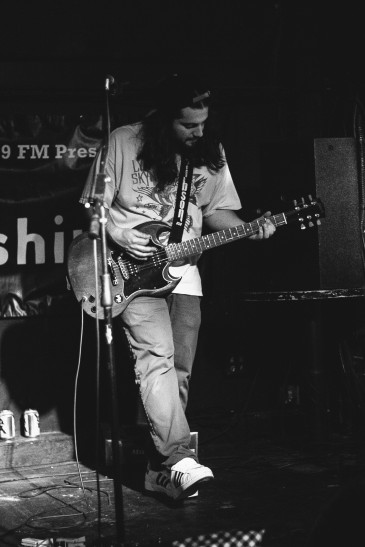 The boys were able to work their way around a couple more tunes before Poles' guitarist sheepishly coughed up a spare string. Even with the guitar back in business, they still weren't able to shake off their earlier mishaps, cutting off the performance seven songs in, tails between their legs as they ducked offstage. Even as he packed up his pedals, burying them deep into an Old Milwaukee case, it was clear Scotty P & The Virgins won't be disappearing from the lo-fi scene anytime soon; hopefully next time though, they'll have handy a pack of extra strings.
Even though it was Poles who came away as winners of the night, I walked out of SHiNDiG with three new bands to check out. Don't miss your chance to support local talent perform at one of the gnarliest venues in Vancouver!