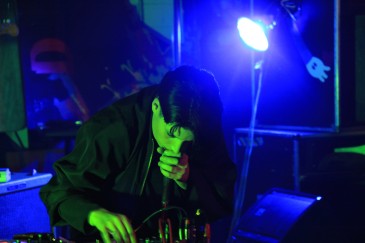 On October 3, I wandered into The Rainbow Connection early. Taking a seat on a couch, the dimly lit room seemed perfect for the night's lineup — a little spooky, like a dance party in a haunted house. Sex Eye Make Up took the stage first with a puff of smoke from the fog machine. Effortlessly sensual, the duo's numbing minimalism diffused over the sparse crowd, dreamlike with their sweet vocals.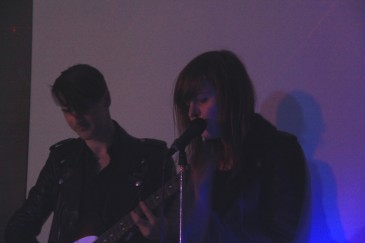 Up next was Mourning Coup. Frontwoman Chandra Melting Tallow's experimental pop evolved throughout her set. Diverse without losing cohesion, it ranged from quietly ambient and ethereal to rich and dark, reverberating off the tiled walls. Tallow's vocals were loud and visceral, and often veered into high pitched screams or deep chants. Tallow truly performed, captivating the crowd with her Grimes-esque mannerisms.
Although Mourning Coup was the act I was most excited to see that night, it was unfortunate that some of the more atmospheric aspects of her recorded music didn't transmit well live. I didn't feel we were given the space needed to appreciate the density of her music and some of the complexity that made it so beautiful had been lost.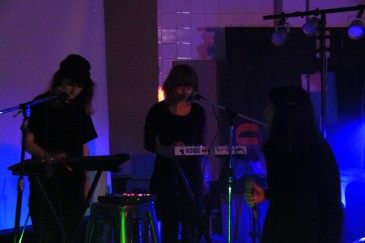 //zoo took the stage next in front of a growing crowd. The guitar and vocals droned and echoed, bleeding into each other as the fast-paced percussion anchored the performance. Gritty and intense, vocalist Ashlee Luk seemed to stalk the audience from the stage, at times dropping onto the floor to command the room with her dark, sinister vocals. They were experimental without being alienating. I didn't have a single complaint, and it didn't look like anyone else did either.
Weird Candle was up soon after, entertaining the crowd with their feverish, dissonant dance music. Their performance was stressful and immediately put me on edge. Vocalist Robert Tunold jumped and crept around in front of the stage, cackling and screaming into the microphone like a movie villain. He carried his mic stand over his shoulder, and collapsed on the ground to roll himself up in the carpet. The set ended with him on the shoulders of some guy from the audience with everyone else gathered around, loving every minute.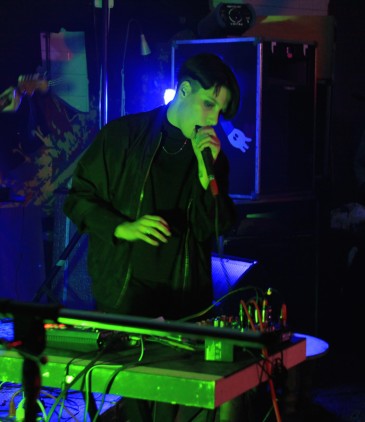 Audience members left one by one, drawn away to catch a last bus, or make it home before 3 a.m. The thinning crowd gathered closer, and the show suddenly felt a lot more intimate.
The fog machine ran at full blast as Cosmetics took the stage, almost completely obscured by acrid smoke and visible only in brief glimpses when a white light would suddenly flash behind them. After a few minutes of futuristic noise, vocalist Aja Emma thanked us all for staying so late.
They took their time starting out, giving everyone a chance to breathe. But soon they fell completely into their dark, disconcerting music—expertly crafting moody synth-pop for your nightmares. They were minimalist without sacrificing depth. Their live performance wasn't as clean as their recorded music—it was darker, denser, more textured. It filled up the space. The night ended with a resonance as tired audience members lingered, ears ringing as the smoke began to dissipate.