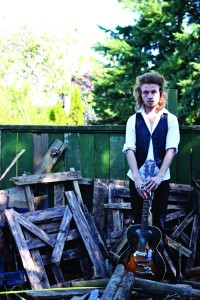 Sundays are typically made for hangovers and sleeping in. But one blue-bird morning I find myself driving out to North Van for an interview with Eric Campbell, frontman of the outlaw rock and roll outfit the Dirt. As I walk up to his home, a decaying boat looms amongst the bushes of the front yard, guarding the residence.
Avoiding ashtrays and empty beer cans up the stairs, his flustered roommate meets me at the front door. Barely poking her head out into the morning sunlight, she tells me that Campbell is still sleeping. Unsure what to do, I follow her through the unfamiliar halls and open a door adjacent to a dirty dish-filled kitchen.
Glancing around at the stacks of books filling the room, I meet the eyes of a complete stranger awakening to the warm newness of day. Without delay, we casually slap hands and introduce one another. The nonchalance and confusion of the scene isn't entirely odd though because after etching the Dirt's recent release Kill Your Love into my skull over the past few weeks, I expected nothing less.

Eric Campbell & the Dirt's music is a beautiful summation of human depravity. Kill Your Love somehow conjoins the sadistic and the satirical into this great big catharsis of rock and roll. The album drags you through mud and squalor, spits in your face, and will make a misfit out of the most morally conscious. With sounds alluding to the Deep South and rock pioneers like Eddie Cochran, Hank Williams, Little Richard, and Hendrix, each song plunges you deep into the dark depths of the human psyche, complete with lyrical mortification fronting twangy guitar lines and thunderous drum beats.
Inspirations like the Gun Club are immortalized on the album's cover of "For The Love of Ivy" and Gene Vincent's precious sock hop tune "Who Slapped John?" is transformed into a murderous bloodbath on "Who Stabbed John?" Kill Your Love was something that Campbell had to logically create as an artist, with its development traced back through the 10 years he has spent playing and performing music.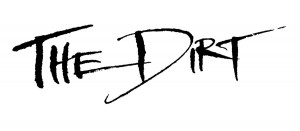 As Campbell sprawls out on the couch, with hands clasped behind his head, he reflects upon his first experiences performing at open mic nights. "Every weekend I went wearing the same wide-brimmed hat, tweed jacket, flared jeans, and these white cowboy boots with inverted crosses on them." Laughing, he speaks of how "they gave you three songs and I only played Bob Dylan."
Like most musicians, Campbell began to feel a "lack of inspiration in performing other people's songs" and needed to "espouse the shit building up inside." He then started to write and compose songs, all the while performing with bands like Dirty Spells and No Sinner. Eventually Campbell developed a collection of songs that needed to be recorded, so he met up with long-time friends John Mulder (bass) and Louis Edward (drums), and started jamming out the melodies inside his head.
"For our first show we were booked for a 40-minute slot and ended up stretching out Hendrix's 'Manic Depression' for about half an hour. Our songs were pretty much just a verse then some sort of an instrumental freak-out, then back to the verse again. It was all about trashing our instruments."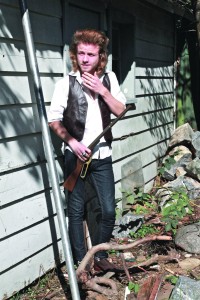 Now the Dirt's set has evolved into a well-polished musical massacre. Their setlist inevitably starts a dance-mosh and at the Kill Your Love release show, they were able to transform Electric Owl into a fully-fledged war zone with bodies and birthday cake flying across the room.
At this point in the interview, I was dying to unveil the ghouls lurking behind the Dirt's "Ropes and Chains" music video — though I never suspected to learn about a legitimate ghost story. "The house was haunted, no doubt about it. It looked like a bomb went off inside. The floors were caving in, endless water dripped from the ceilings, and the rancorous smell of black mould definitely placed our health at risk. We spent the entire day filming in silence until the cops showed up and it became a pretty heated affair. Their biggest concern was that the place was infested with black mould and that it had once been quarantined off as a biohazard. Eventually, we heard through the grapevine that a man named Gottfried Plank had hung himself within the home's very walls and its good knowing our video gave his ghost one hell of a send off."
As we take photos in the ruins of Eric's backyard, I ask him if the Dirt has an upcoming tour for the album. "I don't think we'll have time. Besides, Canadian winters are insane. I was involved in a sketchy accident years ago where our tour van flipped and since then I've kind of sworn against touring in the winter."
Lucky for us the Dirt, now a four-piece with the joining of Colby Morgan on guitar, will be unleashing their rock and roll doom all over the city for these depressing few months. So instead of melancholically awaiting the sunshine, seek out the Dirt and awe at their malicious tunes spuming across a haze-filled bar.