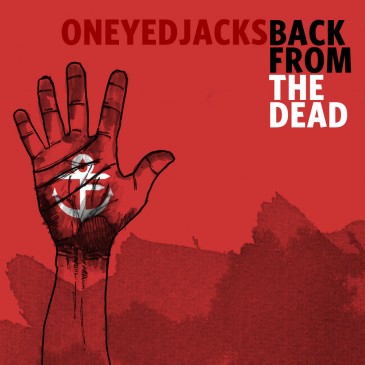 North Vancouvers Oneyedjacks were once a band with pretty straight up punk rock delivery. YARRR!, their 2005 debut was a top-to-bottom down and dirty raucous, but over the years that followed, their sound started to take on a new form. As a result of bassist/vocalist Sean Strome gravitating his musical tastes towards a blues rock influence and switching off his bass in favor of harmonica and guitar, the fast paced energy of a punk influenced Oneyedjacks started to fade.

Flash forward nearly eight years and one would have difficulty believing that this is the same band. On their recently released Back From the Dead, tracks like "56 Bucks," or "Train Song" definitely sees the band dipping their toes in the blues rock pool, and the addition of piano and use of harmonica in a number of the album's songs may almost be a shock to those who are used to Oneyedjacks' old sound.
But all things change; we get older and our priorities become refined. You can't run around on piss and vinegar all of your life, and even if you could, it would get boring. Back From the Dead is a collection of newly imagined tunes that, at times, still flirts with the edge of a punk kick-and-sneer, but for the most part the band is carving out something new and it is an admirable, if not ballsy development in their sound.