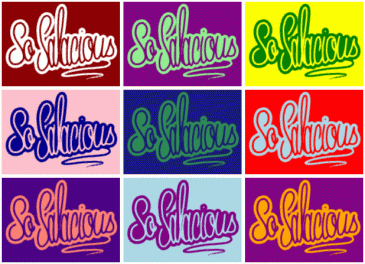 A year ago, Nathan Doyle, a.k.a Sprocket Doyle, was managing a Bang-On T-Shirts on Davie Street, bored with the contents of his iPod. He decided to listen to the radio — something he hadn't done for years as he was disillusioned with all its "poppy, Top 40."
Luckily, he found CiTR's captivating mix of programming. "I discovered it while flipping through stations. Bada boom bada bing, I was hooked," Doyle said. Within the year Doyle was volunteering at the station, playing electro-swing and hip-hop on So Salacious (first aired in March) with fellow newcomer (and hip-hopper in Smear Camp) Cory Taylor, a.k.a. Scads.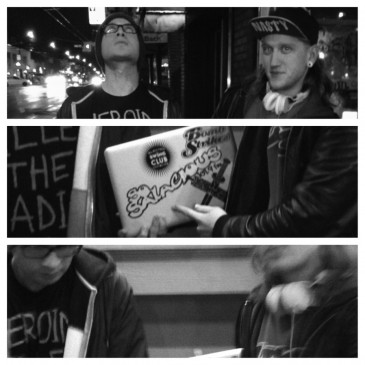 Discorder: What sort of music did you grow up listening to?
Nathan Doyle: The first time I actually listened to my own music and not the stuff my parents listened to was [with] hip-hop, definitely… my whole personal experience with music started off with hip-hop.
Cory Taylor: I remember one of the first records I ever listened to by myself was my dad's Phil Collins records… but I actually listened to the first Batman soundtrack that Prince did [and] the Ninja Turtles soundtrack when I was a kid… I grew up watching MuchMusic in the mid-to-late '80s… [then] a lot of '90s stuff, Pharcyde is one of my favourite groups.
How did the show come to be?
Doyle: I started dating this girl who goes to UBC and I thought, "Cool, I'll check out CiTR," and they just happened to have a tour. So I stuck around and they really showed me how easy it was to have a radio show. I decided to go through the training, and that's actually how I met Cory. We started off our training at the exact same time.
What's the meaning behind the name "So Salacious?"
Taylor: I think that's because music is in a sense a kind of sexual energy and "So Salacious" means kind of seductive, and it's good alliteration to have "Sundays at six, So Salacious with Scads and Sprocket Doyle on CiTR…"
Doyle: … [but] we didn't have this idea to name it So Salacious when we first started training. I didn't know we would have a show together… I was thinking of different genres of music, just an eclectic show, calling it Intunicated (laughs), like "intoxication of tunes."
Taylor: I suggested Off the Notes … it was going to be The Swing Set or Off The Notes, but we actually came to agreement on So Salacious.
How was getting the tattoo?
Doyle: It was quite the experience… I was kind of nervous, kind of excited. It got postponed a couple weeks and I ended up getting Al [Gibbs] in the studio, our sponsoring artist, I guess . I was on my knees most of the time [and] the blood stopped flowing to my legs, so I stood up [and my] knees smashed into the floor, but at the same time I had a sweet tattoo… It was lots of fun, I'd do it again if I could… [I] definitely suggest Al Gibbs, he actually gave ODB his "Ol' Dirty Bastard" tattoo on his chest before he died.
Can you describe the tattoo that you got on air this summer?
Doyle: The tattoo I got this summer from Al while in the station, live on air, is a grenade with a daisy. They both are more like cartoon characters than anything. They have little smiley faces on them and it makes me happy.
All music is banned. What album/mixtape/song would you hide from the authorities?
Taylor: I would say Pharcyde… or anything off Ninja Tune, or one of my CiTR mixes (laughs.)
Doyle: I'd probably go back to a Tom Waits album, I'd keep Swordfish Trombone, that's my favourite album of his…
What's your favourite CiTR show, other than your own?
Taylor: That's a good question. I like RellyRel$'s show Crimes & Treasons, Gareth Moses's new show, More than Human… Bootlegs and B-Sides, there are so many good shows. Sounds of the City, and the Nardwuar show's pretty awesome too.
Doyle: …My favourite show would [definitely] be Bootlegs and B-Sides with Doe Ran… he plays a lot of cool retro remixes and ghetto funk, a lot of stuff I like to play [now] too.
Taylor: I'd add in Rhett Ohlsen's show, The Bassment… I was really impressed with his show.
What does the future hold for So Salacious?
Taylor: We're going to keep going, we've decided we love doing radio and volunteering at CiTR. It's a just a nice opportunity to meet new people, to get creative, to spend some time doing stuff we love… it's nice to be there.
Doyle: Bright future ahead. Expect So Salacious on your billboards in 10 years, it's going to be on your kid's clothing (everyone laughs)… [so] keep your eyes open…
_________________________
So Salacious airs Sundays from 6 to 7 p.m. Mention So Salacious to tattoo artist Al Gibbs at The Fall at 644 Seymour Street for 25 per cent off tattooing!
Listen to podcasts of the show.
Check out their facebook page.