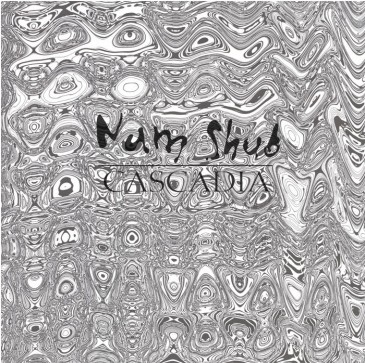 Can somebody say it's about time? Recorded live over two days in November, 2010 and mixed over nearly the next two years, the six tunes from Nam Shub's debut, Cascadia, are finally available on vinyl in record stores. The long fermentation process can be forgiven, because instead of sounding stale, the music has been given a chance to age to perfection in their rock 'n' roll cellar. Even with eight-bit video game sound-flourishes courtesy of synthesist Scotty Boe, the whole album sounds immediate and completely of this moment in time.

"Original Wizards" starts the album off with a slow burn of old-school video game synth and moody bass and guitar lines before Matty Harris' drums bring Caton Diab's sweet basslines to life, and Bill Young's guitar leads scream like the Edge going over the edge. Toss in Young's processed ghost-in-the-machine howling, and you've got a Bauhaus-meets-jam-band groove that lasts for 11 minutes, but never gets tiring and, thankfully, never sounds like an actual jam band.
The moody and wordless "Perfect Toque Weather" sounds like a badass soundtrack from Double Dragon II, while the more uncomfortable clothing-themed, "Marble Cardigan," is a '90s alt-rock riff explosion with a shimmering futuristic coating.
Nam Shub have made an album that is less of a collection of songs than it is an atmospheric songscape, where a track twists and turns and then goes into the next one without pause or warning – think Dark Side of the Moon with indie credibility and no singles.
Despite its title, "Orbit" is the most down-to-earth track in the set. Boe shines the brightest on this track, working the synthetic ivories over a funky beat to make a lullaby for hipster parents sick of glockenspiels. The only song nearly as mellow is "Geostationary Eye-Amber," a subdued high on Young's melodic vocals and guitar and a soothing rhythm, with the addition of Boe's ubiquitous synthskwonk.
The album closes with "Larping," a nine-minute ode to downers, where the vowels are stretched longer than the guitar bends, and the rhythm section limps to the finish line — in a good way. It's a subdued, tranquil note, leaving the listener hoping Nam Shub doesn't sit on their next batch of songs for so long.