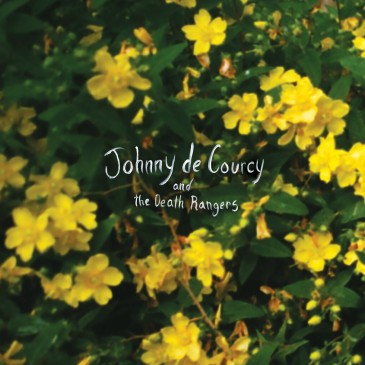 Think back to the years that filled this early century and the music that grazed the glossy pages of SPIN and Q Magazine. Contemporary British bands with matching haircuts and men with the voices of lovely ladies, that somehow made teenage girls swoon. On Johnny De Courcy's self-released Johnny de Courcy and the Death Rangers, my instinct is to remember the days when I listened to an identical sound by the Kooks on repeat, five years ago.
I haven't heard a band like this since, and with good reason. De Courcy's voice looms like a bored, gloomier version of Luke Pritchard's, with an almost parallel accent. The tracks, mastered by Paul Gold at Salt Mastering and recorded at Bully's Studios, are flooded with depressing lyrics, heavy pop-guitar, and theatrical drumbeats, all flawlessly crisp and perfectly mastered.

"Fade Away" gives the album a sentimental, coastal, and almost Celtic texture with wallowing lyrics and '70s inspired, lingering guitar notes. The next track, "Hello Goodbye," coincidentally enough begins with a riff akin to "Blackbird" by the Beatles. I actually thought it was a bad cover with the wrong name for the first few seconds. Instead, it rolls into an irritatingly bouncy and marginally tacky jumble of a ditty.
However, when the redeeming "Andreas Song" comes in, I can imagine this track would take the reins at a show and snap a drowsy-eyed crowd into some ecstatic bobbing. But next, De Courcy's winsome vocals meander back in "Old Glass" with naked lyrics and '90s pop-rock drums.
Each track mimics its predecessor, following the same pattern with a sluggish beginning while pushing its way into either a psychedelic trance or a teen-angst rock out. It's difficult to determine what sound the quartet were aiming for. '90s MTV pop-rock? Washed-up nu-metal? Pretty much anything but solid, rooted, or good.
Overall, Johnny de Courcy and the Death Rangers is like a 12-tracked mosaic of self-indulgent boy-next-door pop, impeccably performed instruments, catchy melodies, and Brit-band influenced heartache. If you're into the Kooks, give the album a listen and you may just thoroughly enjoy it. If not, save your ears the trouble.