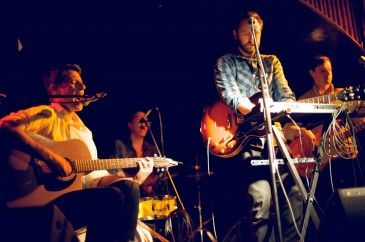 Siskiyou's record release party for their sophomore album, Keep Away the Dead, was an intimate yet inviting affair for all those in attendance at the Waldorf. Sometimes it's just nice to throw on your favourite flannel and go mingle with other plaid aficionados. It's even nicer to chat with those plaid-clad individuals when great music is being played. The Thursday evening event was no exception.
Opening the night was In Medias Res' Andrew Lee, whose pedal steel guitar emitted lush, country-tinged tones while his backing band added to his atmospheric sound. You could honestly feel the amount of attention the audience was giving Lee once he began to sing. His set was mostly culled from In Medias Res' latest album, It Was Warm and Sunny When We First Set Out, including highlights "Tonight I Am New" and "Hollis." It was such a delight, since the record is hands down one of the best albums to come out of Vancouver this year.
Christopher Smith took the stage next with his serene, introspective slow jams (including an incredible cover of Tegan & Sara's "Back In Your Head"). It wasn't just the minimalistic electric guitar and meticulous drumming that made Smith's set so enjoyable, it was that he knew how to captivate his crowd. "Alright, we're going to take it down a notch…again," he'd say between ever-softening numbers. His playful demeanor lightened up the mood between each song, and allowed the audience to become immersed in his poetic lyrics.
After a brief intermission, Siskiyou took to the stage to celebrate their newest release. Former Great Lake Swimmers drummer and Siskiyou frontman Colin Huebert took a seat, grabbed a guitar, and began to rock out. One of the highlights was a fantastic cover of Simon & Garfunkel's "El Condor Pasa," but my personal favourite was their inaugural live performance of "Fiery Death." The song was a cornucopia of delicious instrumentation; whispery vocals, percussion and a wind controller all played a part in the lush landscape of sound that left the crowd musically fed and satisfied.
The Waldorf is a place where everyone can come together, in a tiki-themed room seemingly right out of Elvis Presley's Blue Hawaii, to enjoy some great music. Siskiyou's performance allowed you to do just that.