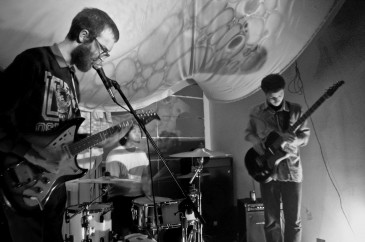 The mood at weekday Zoo Zhop shows is always interesting: drunk kids buying Tupac records out front while a mess of wires and amplifiers get strung up around the real gut of the venue.

Village were first on the docket. This was their first show, and I suspect the reason for their scant three-song set list was for want of more written material. As soon as they were able to shake the jitters, Village came alive, channeling a calm and airy tone that took cues from the xx's level-headed delivery. Their vocalist has great pipes; her smooth singing sounded like wooden wind-chimes dancing next to their vibrato-laced guitar riffs. Without a drummer, Village were a little difficult to keep pace with. They were nonetheless entrancing to watch.
Weed may be my favourite local trio right now — scratch that, they're definitely my favourite local band. Frontman Will Anderson, dressed in a sweater and sneakers, looks remarkably out of place behind a guitar but that doesn't stop him from nailing the perfect gritty garage sound. Like a chunkier Weezer, Weed were best when transitioning from laid-back riffs to their furious choruses, which had Anderson jumping into his microphone stand like a passionate drunk.
Hermit Thrushes, the only out-of-town act on the bill, would almost have been hard to spot amidst their formidable collection of amplifiers, drum kits and guitars were it not for lead singer Yianni Kourmadas' complete and utter lunacy. Armed with a three-stringed guitar, he led the group through a spazzy, schizophrenic performance full of impulse-driven lyrics and weird time signatures. Half-way through the Philadelphia outfit's performance, Kourmadas educated the crowd about the crucial differences between hermit thrushes, a kind of bird, and Thrush Hermit, a "stupid" Canadian band that was the source of some case of mistaken identity. Their often insane songs only just managed to catch the crowd's attention before ending abruptly and incoherently.
I had to laugh when I finally realized who the headliner of the night was — being billed on the poster as "SHPX," I didn't get that it was Shearing Pinx until they picked up their instruments. The band seems to have "made it" in Vancouver, at least to the point that they can obtusely abbreviate their title and still draw people in to hear them. They put on a suitably grandiose performance as, flecked in war paint, they started the set with an extended, deafening noise session full of growling feedback. SHPX played song after song of angry, vaguely gothic noise-punk and, bathed in the glow of a dusty projector, made the dim corners of the Zoo Zhop feel as if it were haunted by the spirits of angry, guitar-wielding ghosts.