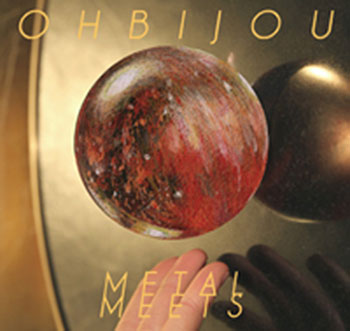 Ohbijou- Anser
It's raining, and has been since I can remember. It has seriously been the eeriest day, ever—so downcast and dreary. While listening to the first sounds of the echo-laden guitar in "Niagra," I can feel my rain-drenched frown being lifted, floating even. I was not expecting this illumination coming from a band whose third album is entitled, Metal Meets. With elegant lyrics and crafty album art, these Toronto-based performers have put together an outstanding and surprisingly beautiful album.
Singer Casey Mecija's child-like voice, placed alongside orchestral arrangements, gives Metal Meets a keen, fresh sound. Through the 11 tracks, the band paints the tranquility of Dyer's Bay, ON, where the album was written. The music flows into melody in "Balikbayan" and finalizes with the nostalgic piano frills of "The Dreaming." The string instruments and rolling drums fashion a dreamy and lush sound experiment.
Last Gang Records knows what they are doing by working with Ohbijou. Although the band's optimistic sound is distinct from its fellow record label brethren, it has in common the feminine and dark lyrical aspect. The label worked with fellow Torontonians Metric and Crystal Castles (take note the female lead vocal theme here). If I were you, I would heavily consider attending the band's upcoming show on November 19 at the Biltmore. It will be magic!