Since 2010, Toronto's Steven Tanaka has organized Next Music from Tokyo, a tour which, as its name implies, has to do with our musical brethren from across the pond. The traveling show's third edition, held at the Biltmore, treated Vancouverites to the best Japan had to offer, with some local band candy-coating on top.
Comprised of 18 and 19-year-old porcelain dolls, Akai Ko-en, aka Red Park, were a crazy and totally fitting way to start the show. Dressed in white and alternating between freakishly loud and intimidatingly quiet, the openers captured the attention of the crowd with their ferocity. Their bassist contributed to the frenzy with shuddering noise riffs, not to mention the grinning, manic way she danced around with her instrument.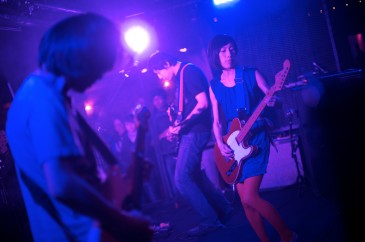 To describe hyacca as shoegaze would be inaccurate, since their frontwoman Hiromi Kajiwara spent most of her time standing as close to the crowd as possible, at one point sending her guitar on a crowd-surfing expedition into the mosh pit and back again. hyacca combined spacey wah effects with punchy, buzzing guitar solos to create something that really punched a hole through my head. I sought out their CD as soon as they stopped.
I noticed a few others in the crowd wearing the same t-shirt as me—a memoir from last year's tour—and couldn't help but feel we were in for a treat once Vancity natives SSRIs got up to play. Explaining that, collectively, they were "one-sixteenth Japanese" and thus qualified to be sandwiched in between the touring acts, the foursome leaped into a silly but spastic set, containing their now-signature pound-the-keyboard breakdowns. The lack of former drummer Tony Dallas' stick-smashing fury is regrettable, but new skinsman Kevin Romain made for an adequate replacement. Best part of the show: a bass-line-backed, triple crowd-surf interlude before their final song.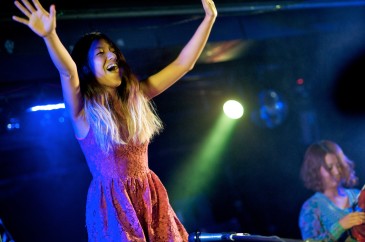 chiina don't look too threatening, but it would be a very dangerous mistake to take the outfit's usage of a contrabass, keyboard and violin at face value. They blasted through pop songs infused with jazz and post-rock stylings. Even though they were easily the most static group of the evening, they still managed to stir the crowd into cheers for an (undelivered) encore.
Until this point, I'd been taking down notes in my pocketbook about each band, but I couldn't tear my eyes away from NATSUMEN as soon as they assembled on stage. It's impossible to really describe the eight-piece experimental hardcore jazz outfit as being anything more than a sum of its extraordinary parts. Guitarist AxSxEx delivered his best Jimi Hendrix impersonation and led the crew through upbeat but ferociously complex tracks filled with beautiful horn choruses and over-the-top Stratocaster guitar solos. NATSUMEN put on the best show I have ever seen, filled with the kind of energy that is absolutely impossible to forget. The passion these musicians have for their trade was awe-inspiring to see from inside of a mosh pit.