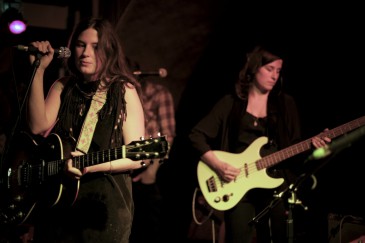 The basement of the Waldorf Hotel was absolutely packed for the Lightning Dust/Hard Drugs split seven-inch release party, which appeared to be the hottest ticket in East Vancouver.
Seattle-based openers Whalebones took the stage first. The power trio was a true blast from the past, proudly blaring '70s style blues rock with vigour and purpose. Singer/guitarist Justin Deary rocked the Jimmy Page axeman histrionics while belting out his vocals in a sub-Bob Dylan drawl. Whether it was intentional or not, he was dressed like Russell Hammond from the Cameron Crowe rock flick Almost Famous. The band's bassist stood stationary but performed well enough, providing a steady rhythm that supported the drummer's heavy, thudding beats. One song that particularly stood out was a tune reminiscent of Led Zeppelin's "Dazed and Confused," which perfectly captured the original's eerie, creeping menace.
The stage became significantly more crowded as Hard Drugs began their set. The group varied
between six to seven members onstage at a time, and their performance included the use of harmonica, violin, and organ. Hard Drugs' sound can be defined as southern folk rock in the vein of Fleetwood Mac or Lynyrd Skynyrd. The group's tunes seemed to cover a wide range of emotional states. "She's Hot, I'm Married" was significantly light-hearted, as was another number that was about an individual named Auntie Linda and her magical camp. The fact that the band was able to shift gears, though, was appreciated. Especially when they ended their set with an organ-heavy rocker called "Salvation Blues."
The true triumphant stars of the evening were local heroes, Lightning Dust. This writer means it with the utmost sincerity when I report that they sound just as good, if not better, live than they do on record. Joshua Wells is a god of the keys, drenching many songs with haunting, ethereal drones and sonic washes. The cello and violin work provided by two of the band's backing players helped create a cinematic, hypnotizing atmosphere. Amber Webber's warbling vocals made even the most hopeful lyrical sentiment tinged with regret and immovably grounded with a stark grip on reality.
An inventive touch to their strikingly gorgeous and moody set was their encore, an interpretation of the Sensational Alex Harvey Band's "Hammer Song." With a sound that is simultaneously comforting, melancholic and panoramic, Lightning Dust was the band to beat. Whoever wasn't there, missed out.