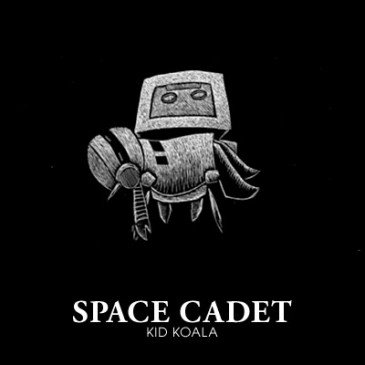 Kid Koala's latest project is somewhat of a surprise as it is not something that will land him a turntablist hall of fame nomination. Fans looking for catchy, scratchy sonic bits, which the Vancouver-born DJ is known for need to consider this concept album a divergence from his solo efforts or his many collaborations.
Space Cadet is the companion piece to a 124 page graphic novel illustrated by the kid himself. While it is common knowledge that Kid Koala is a talented visual design artist, based on his previous album covers, this graphic novel, his second, features a white line art technique over top a black background not typical of his previous drawings. The result is a stunning visual experience enhanced by the melancholy tone of the music.
Musically, Space Cadet launches lonely piano keys into the vastness of space; Most of which are often struck in minor tonalities and left floating endlessly. Though seldom, subtle scratches and other accompaniment fill the cavernous spaces left by the wandering piano motifs.
Track after track and page after page, the heart wrenching wordless story about a friendship between a robot and its human companion creates an interactive reading experience with the feel of flipping through a storyboard for a film. The album even has cues as to which page you should be on when listening, which is very helpful but forces the experience to be drawn on a bit at times.
Still, the book, story, artwork and overall package is impressive. The soundtrack is an experiment in minimalism and the book is a powerful read. Both can stand on their own as separate entities but function best as a unified experience. Either way, Space Cadet is a testament to a multi-faceted artist who is not afraid of pushing his own boundaries.