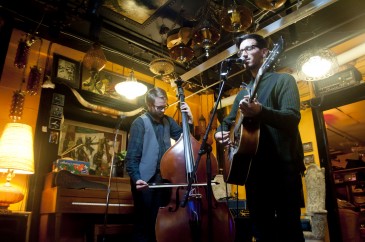 To the dismay of many of its flip-flop and t-shirt wearing citizens, Vancouver reverted back to its usual rainy gloom. I made my way over to the Prophouse, a small neighborhood café on Venables Street, cold and slightly soaked. Having just set foot inside the café for the first time, I was greeted by an overwhelming number of antique lamps hanging like stalactites, while vintage memorabilia and quirky collectibles litter the rest of the space. It was quite possibly the best venue for an intimate country folk show.
Julie Nelson and Jessica Wilkin set the evening's calmed mood with their melodious tunes. Nelson's dreamy, rich voice conjured up images of blissful walks across a meadow. Possibly due to a case of the jitters, Nelson and Wilkin forgot to introduce themselves until an audience member asked for their name. Julie Nelson bashfully introduced the band as Selkies, after the mythological seal creature that morphs into human form. Even though they were playing for the first time, these ladies certainly got the audience enamored with their talent.
Ontario native Scotty Mack took center stage equipped with an electric guitar. Although, you can't deny his talent—he was entrenched in every song he played, strumming his guitar and using his foot to play his tambourine—it didn't seem to add up to a cohesive sound. A fairly talkative fellow, Mack humoured his listeners with a tale about seeing a seemingly dead girl lying on the street in Kamloops the night before. He eventually set the record and said that she was actually alright.
Hailing from Hamilton, Ontario, Terra Lightfoot embarked on her first Canadian tour in support of her self-titled debut album. Explaining that she had never journeyed beyond Manitoba, it was quite obvious Lightfoot was delighted to come see the West for herself as she entertained the audience with tales about tour life. Her brand of music is rather hard to categorize. It could simply be described as indie-folk infused with math rock sensibilities. She possesses an amazing, full-bodied voice that echoed throughout the tiny space, and it kept the audience in awe.
The headliner of the evening was local sweetheart, Jamison Troy, who conveniently lives a few blocks away from the café. He started the night off by playing "Old Man," a track off his debut record, Searching for the Quiet. The first thing that struck me was his voice, which was delicate and almost soothing. Armed with an unplugged six-string and a friend who played double bass in the background, Troy kept up a pleasant mood via his simple acoustic melodies. Quite the compelling lyricist, he crooned about the moments in life where one yearns to hold on to something certain. He certainly left his audience relaxed, peaceful and ready to cap the night off in serene slumber.