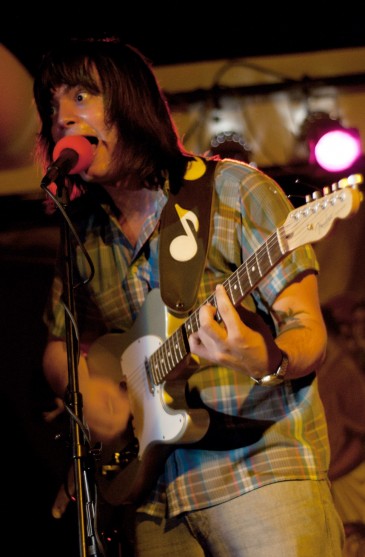 Interminably at the crux of cool, the Waldorf was whirling with partisans and party-goers for this night of garage rock nostalgia.

Laying the foundation was Vancouver's Dead Ghosts. With raucous and playful designs this four-piece managed to be a throwback to acts like the Troggs and the Hollies with a dollop of camp poured on for good measure. Their ringing guitars and youthful boyscout appearance was playfully good natured and, though it's hard to articulate why exactly, they exuded a kind of Hardy Boys-meets-Mystery Team vibe. I wouldn't be surprised if, after their lively little set of garage-y goodness, the fresh-faced lads in Dead Ghosts helped Scooby-Doo solve a mystery in a spooky mansion. But I digress.
Haunting the stage next was Lafayette, Indiana's TV Ghost. While having two similarly monikered bands on the bill may have caused some initial bemusement, it was soon dashed when this four-piece heatedly dove in to their performance with considerable gusto. Their art punk ambitions, complete with driving guitar, thudding basslines and frenzied frontman Tim Gick's wild theatrics, these lads were unflagging in their brio. Their intensity absolutely evoked the Cramps and some of the playful irreverence that the Butthole Surfers are also known for.
It was a surprise that there was still flavour to spare after TV Ghost's riveting set, but the enamoured crowd was ready for more by the time Miami, Florida's jovial Jacuzzi Boys hit the stage. Making their Vancouver debut, the band brought some old-school awareness—coupling garage rock with touches of psychedelia.
Gabriel Alcala made for a first-class vocalist, hollering out playful non sequiturs and giving joyous thanks between brisk and bumping numbers like "Cool Vapors" and "Automatic Jail," which continually detonated the dance floor.
Jacuzzi Boys glimmered on the stage, with their untiring, strident spunk sometimes conjuring Redd Kross or Kiss. As the trio swaggered around the stage, the room buzzed and bumped with electricity—"Crush" being especially exuberant as the mob in front of the stage heaved and careened in delight.
Playing a variety of tunes from their recent sophomore release, Glazin' as well as material from their 2009 debut, No Seasons, Jacuzzi Boys left a lot of room for fans to splash around and dote about in. Their waters were warm and welcoming. It was a shame they couldn't play all night long.