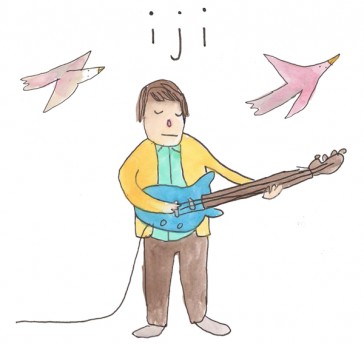 iji is primarily the creative project of "multi-instrumentalist and magician" Zach Burba. It was recorded in the Seattle house/d.i.y. venue space Funny Button. The cover art, by Burba himself, depicts with childlike innocence and simplicity (and a welcome absence of perfectionism) a young man in a cardigan holding a bass guitar, eyes closed in serene, meditative manga-style half circles, as two birds hover above either shoulder like shamanic power animals.
Burba's vocals have a fragile yet urgent luminescence, like a match being lit in a secret underground passageway. The music is endearingly whimsical and unpretentious in its arrangement and production, dripping with delicious reverb and relentlessly assured in its life-affirming melodicism. If you set up an open-air studio out in the woods and forgot to stop recording when you went to sleep, and a bunch of cheeky hipster elves came and played a bunch of songs, you might get something similar in sound to iji. The result is a surreal Northwest pop vibe that sounds like surfing on magic mushrooms.
The last track, "Whatever," features Burba's "best friends" Erin Birgy of Mega Bog and Shelby Turner of Sundance Kids. Check out https://offtemporecords.com/shop to hear two of the tracks off this EP. iji is also present on MySpace and Bandcamp, the latter of which has further examples of Burba's visual art. Then check out Off Tempo affiliates https://WizardsoftheGhost.com. These are all pioneers of the new post-corporate, d.i.y., tribalised music industry; interconnected like strands of mycelium in a pile of damp wood chips. iji and their extended musical family are an excellent reason why—at least culturally—B.C., Washington and Oregon should start their own republic.