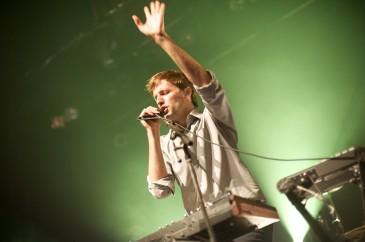 After catching Cut Copy DJ at the Waldorf the night before, I had high hopes for their show at the Vogue. Witnessing the kind of atmosphere these guys are capable of summoning with a pair of turntables definitely built up anticipation of what they could do as a full band.
Sad news met me at the door, however, with a notice that openers Washed Out couldn't make it into Canada, making for a disappointing lack of chillwave on the bill.
I had never heard of the other act, Midnight Magic, before and had no idea what to expect. They turned out to be an electro-funk-soul fusion outfit, complete with a brass section and ambient synthesizer interludes. The group caught the audience well off-guard, especially when their singer trotted out on stage in her ridiculously glittery dress, staring everyone down imposingly. While their appeal was mainly comical and campy, they did play some deeply groovy tracks, including one that I loosely assumed to be a sexual fantasy about Superman.
The absence of Washed Out made the wait for Cut Copy agonizingly long, but eventually the four tall, skinny Aussies went up on stage and opened with "Take Me Over." With its gripping bassline and its sing-along chorus, the single from this year's Zonoscope drew a warm response from the crowd. Next up was the cheery "Feel The Love," which was backed by acoustic guitar strumming and a well-played robotic vocoder chorus.
The gradual change in lead singer Dan Whitford's shirt from "dry" to "gratuitously sweat drenched" marked the band's transition from hook-driven pop songs towards jumping electro dance numbers. The band put down its guitars in favour of synthesizers and samplers, showing off their mastery in creating stretched-out build-ups with climactic moments of release, like they did on "Corner of the Sky". One feature that really stuck with me was the almost unpredictably bipolar way they switched between droney synth interludes, cheerful choruses and Daft Punk-evoking dance beats. In other words, there's never a dull moment with these Aussies.
As they came back for their much-anticipated encore of "Need You Now," Cut Copy had me convinced that, as both DJs and as an electro-pop outfit, they're one of the most exciting groups out there. They managed to recreate their studio sound faithfully, while putting up an engaging stage presence.