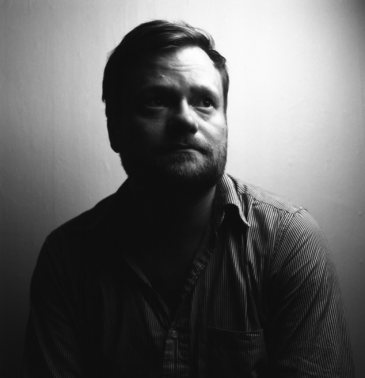 "Beautiful Burning Desire" by Blackout Beach
"It's kind of a grandiose teenage statement," Blackout Beach main man Carey Mercer laughs into the phone of his boldly-titled new album, Fuck Death, "but it's also like fuck my own fascination with death, fuck the way that death's presented and manufactured—'Fuck Death' is simplistic and complex at the same time I guess…I hope."
Inspired by the equally provocative American contemporary painter Leon Golub's painting of the same name and by his fascination with stories of war, Fuck Death, which comes out November 15 on the Dead Oceans imprint, appropriately reflects both the sonic and thematic substance embedded within the album's nine tracks.
While no stranger to recording—he's also the frontman for Frog Eyes and a member of Swan Lake—Mercer says it's difficult to compare his various projects. Swan Lake, the collaboration between Mercer, Destroyer's Daniel Bejar and former Wolf Parade member Spencer Krug, for instance, doesn't have a deliberate direction. "It's such a collaborative effort that I don't think we have a sonic idea when we go in. I think it's more just a miracle that we end up with a record at all," he jokes. He describes Frog Eyes, his project of the last ten years, as "very visceral, simplistic and not intellectual at all." When he feels like getting out of his seat and dancing around with the guitar, he knows the group have something to chip away at.
The last two Blackout Beach records, meanwhile, (2009's Skin of Evil and Fuck Death) have instead been cerebral studio exercises in electronic sound, which Mercer emphasizes is something he enjoys. "There's kind of the idea that if I'm on a guitar I'm keeping it real, but if I'm using a computer it's somehow false," he explains. "I don't really believe in that, but I do think that they are very different experiences."
Mercer describes recording Fuck Death as incredibly tedious, forcing the musician to ask himself: "Why do I do this? Why don't I just put a band together and write some songs on the acoustic guitar?" You can especially feel the painstaking patience it took to record the brilliant, nearly thirteen-minute "Drowning Pigs," a multi-arced tune full of sleepy, methodic rhythms, drawn out chords and wind sounds slowy blowing between vocal breaks.
Dispelling any belief that the mostly computer-generated recording was in any way more efficient than composing things acoustically, he explains "there were moments making Fuck Death that I was completely ready to puke just staring at a screen."
Three years in the making, the album is a manifestation of hours upon hours of Mercer's time. Self-recorded in his hometown of Victoria, B.C., and mixed with Tanis Gibbons at the Hive Creative Labs here in Vancouver, Fuck Death is characterized as much by the recording process as by its thematic content.
Aside from a couple of drum machines and a guitar, Fuck Death was composed using a few monophonic synthesizers, meaning each chord was composed from three or four individually recorded notes. "I think most people would be like, 'why didn't you just get a polyphonic synthesizer?' And the answer is you only have so many funds," Mercer says with a laugh. "And one of the great things about art is setting obstacles for yourself and working around them."
Instead of going out and buying a new synth, Mercer asked himself "how am I going to create polyphony?" As a result, there are certain inconsistencies and peculiarities in the album's analog wave that give it an unsteady warble. The inconsistencies lend themselves conceptually to the album's uneasy themes of beauty and war.
Not coincidentally, Fuck Death started with a sound; the album's concept came after. "It was really difficult to find the theme. I think I spent about a year with the music being mostly done, struggling to find the words to put over it."
War is possibly the most pervasive influence on the LP's lyrical content, evident in lines like "war is in my heart" (from "Be Forewarned, The Night has Come"). There's also a kind of military-mindedness in the helicopter sounds of "Torchlights Banned" and in the white noise of squawk boxes and walkie-talkies on "Be Forewarned, The Night has Come." "All those sounds that little boys love," Mercer describes.
While war itself is political, Fuck Death isn't intended to be a political album. "It'll never be a record that people are singing to at Occupy Wall Street," the artist explains. Rather, it's a reflection on the human fascination with the artifice of human phenomena such as war.
Characterized by a whirlwind of electronic sounds, the heartbeat-like rhythm of drum machines accompanied by simple, thought provoking vocals, I think it will be agreed that there's something sumptuous and inviting about the ambient white noise of Fuck Death.
Blackout Beach will be performing at Zulu records on November 26.