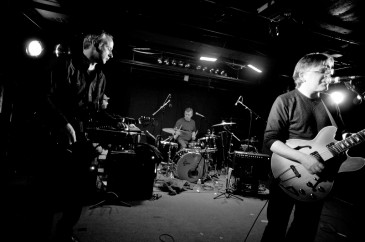 Teenage Fanclub, along with XTC and a bunch of other '80s/'90s British bands, form a special part of the soundtrack of my childhood. My brother and I both played on travelling hockey teams, and my father would tell us that it was time to develop some cultural pride before slipping a tape into the deck and air-guitaring to "What You Do To Me." So when I heard they were headed to Vancouver, I was so down for the show. In fact, I may have spent the weeks preceding the show sharing most of their 1991 album Bandwagonesque with my entire department. On repeat.
Vancouver-based band the Shilohs opened the show with an appropriately Brit-pop and surf-rock feel—a definite Big Star influence, with dashes of Buddy Holly. The vocals also sounded a bit like Davy Jones of the Monkees sometimes (I checked with my friend, who came with me, and she agreed. So odd but true). The Shilohs, who just released their first self-titled EP, rocked a mix of up-tempo and slower, more sentimental songs. Their set was tight, and presented a classic West Coast melange approach to standard pop rock.
Teenage Fanclub hit the stage next. "They look like dads," my friend Erika said. Again, true. Norman Blake (vocals, guitar), Raymond McGinley (vocals, lead guitar), Gerard Love (vocals, bass) and Francis MacDonald (drums), who've been together in one form or another since 1989, look like dads. They also have hot accents (Erika verified this.) The crowd at the Biltmore was also a little older than I'm used to, but then, my own dad was at the TFC show in Toronto earlier this year (I had him send me their setlist for comparison's sake). The Fannies (don't judge me) played a good mix of old and new songs—a whole bunch from 2010's Shadows, alongside tracks from Bandwagonesque, Grand Prix and Songs from Northern Britain.
TFC's newer songs are simultaneously familiar and innovative; "Baby Lee" (from 2010's Shadows), for example, is a catchy, melodic song melding a glockenspiel with TFC's tried and true approach to vocals and rhythm. "When I Still Have Thee" (also from Shadows) is a solid, love song with some on-point, awesome lyrics: "The Rolling Stones wrote a song for me / It's a minor song in a major key … It's a modern hymn for the you and me." My favourite songs of the evening were from what the band warmly referred to as their "back catalogue"—" Sparky's Dream" and the night's closer, "Everything Flows." "The Concept" (from Bandwagonesque), the last song of the set before the encore, had the entire crowd singing along. As the show ended and the Biltmore cleared out into its lovely triangular parking lot, I felt a wave of hockey nostalgia and headed home early enough to be in bed by midnight.