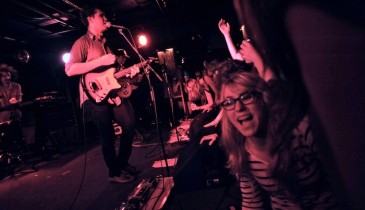 If a university class in concert reviewing existed, I likely would have failed it on Tuesday, Oct. 5. I arrived at the Biltmore at 10:30 p.m.—okay, maybe 11 p.m.—just in time to see more than a handful of blissed-out Drums fans skipping stairs on their way out of the venue. Not a good sign.
The no-nonsense bouncer confirmed that yes, I had missed "Best Friend," my absolute favourite track off the Drums' self-titled debut, and indeed the entire co-headlining set. (Personally I blame the Nelson couch surfer—he was my plus one!—who insisted on teaching me eyeball exercises and standing meditation before the show. I wish I was making that part up.)
Anyway, if you need details on the Brooklyn goth-rock half of the set, I suggest checking out local blogger Alex Hudson's write-up in Exclaim!. He's probably right.
Lucky for me (and subsequently for this review) Surfer Blood had yet to take the stage. The Floridian quartet quickly banged through their most buzzworthy material at the top of their set, including the bouncy "Take it Easy" and mosh pit-inducing "Swim." Frontman John Paul Pitts has perfected his stage moves, which features an adorable stationary pivot from left to right, guitar neck outstretched at an exact 90-degree angle. By the fifth song, it seemed that audience energy had reached its ultimate peak. People in the front continued to rock out, but the majority of attendees nodded along with silent intrigue—perhaps unfamiliar with the non-singles on Astro Coast. The night ended (early, it seemed) with an encore featuring a Guided By Voices cover and a sweaty rendition of "Neighbour Riffs." Stage banter was minimal, but the crowd was otherwise satisfied. Let this be a cautionary tale: for better or for worse, shows at legit venues in Vancouver actually start on time.