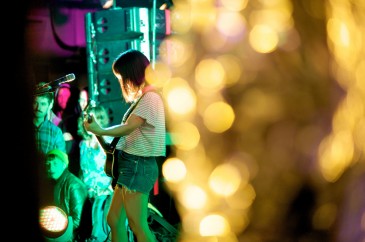 If you've never been to Montreal before, like me, one of the best ways to experience the city as well as the music and arts vibe is to attend the annual Pop Montreal International Music Festival. With over 40 venues and 400 bands over five days, you've got more on your plate than a half-chicken dinner with fries and salad at Rotisserie Romado's.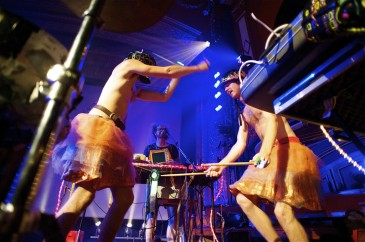 Day 1
On the first day with no preparation at all and my relaxed just-show-up-at-this-festival attitude, I picked up my schedule at the Notman House (for artist and media to hang out) and headed out to the Rialto Theatre for the opening Pop Montreal kickoff party. I found out it was mostly a meet and greet night plus fashion show for music industry peoples and media but the draw was to see the never tiring hyperactive members of Gobble Gobble.
La Sala Rossa hosted a few close-to-home acts Menomena and Tu Fawning (Portland) with Brooklyn's Suckers playing in between. Tu Fawning provided a rich, moody array of multi-instrumentation fit for the red stage drop of La Sala Rossa. A quick walk up the road I had to cram in a dark, sweaty room to see Montreal's Play Guitar rippin' it up to close out the Youth Club Records showcase. Walking south on St. Laurent I caught Cousins at Club Lambi. Kind of a tame first night for Pop but my feet got a workout. (Note: take the Metro or the #55 bus.)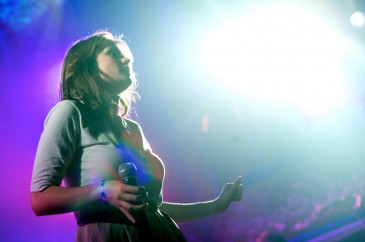 Day 2
Day 2 of Pop convinced me to look at my schedule which overwhelmed me with choices of what to check out: the Postelles, Diamond Rings, Shonen Knife, Long Long Long (which I now regret not seeing), Snailhouse, Women, Laura Veirs & the Hall of Flames, the Luyas, Twin Sister. Nope, didn't catch any of them. Oh, this was the night that it rained a lot so with my clothes absolutely soaked I stayed in mostly for this one show and that was the Arbutus Records showcase at the Rialto Theatre. Featuring Silly Kissers, Pop Winds, Grimes and Blue Hawaii this dream lineup was a culmination of the best shows I've seen this summer (Pop Winds, Grimes and Braids at Goody). The rains didn't stop folks from showing up early to pay $5 for this show as the doors were not open until late. Silly Kissers capped off this remarkable band showcase which left fans shouting for more.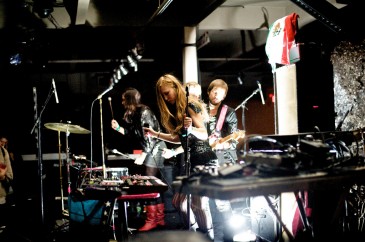 Despite missing all the aforementioned bands this evening, all was not lost because if there's anywhere you want to be after a show, it's the after party held at Espace Réunion (the Little Burgundy Pop Loft). Holy Fuck and Indian Jewelry played the first of many "secret" after-party shows there. The space wasn't a loft at all but this massive warehouse space that felt like a venue somewhere in Strathcona. Darkness and strobes greeted me as I walked mid-way through Indian Jewelry's pounding percussion.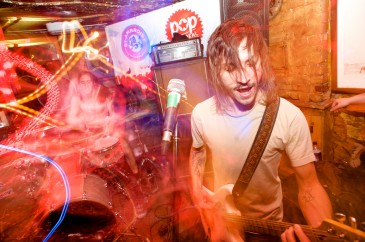 Day 3
I should have seen Swans and Danielson with Deerhoof but I caved in to attend a sit-in performance at the Place des Arts theatre to see Zola Jesus, Warpaint and the xx. A more relaxed watch and sit performance didn't cut it as the intimacy of the xx would have been better if people were standing and closer to the band on stage. Warpaint weren't disappointing but I'd rather see them play in a smaller venue. Leaving Place des Arts, I found my way up St. Laurent once again and stepped into the Barfly for Little Girls and Woodsman. One of my favourite surprises of Pop transpired in the early morning at L'Escogriffe with Montreal's Data Cave violently bending everyone's ear in the room. Data Cave are on tour with Vancouver's drone violence twosome Ahna.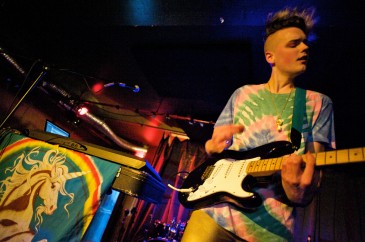 Day 4
By this time into the festival, I'd settled into the city and walked my way around. Late afternoon cheap eats were in store at Patati Patata with their delicious mini burgers and then it was off see Diamond Rings play a quick free afternoon teaser at Divan Orange before he went back to bed with a bagel coma telling folks to wake him up at 10 p.m. that same night.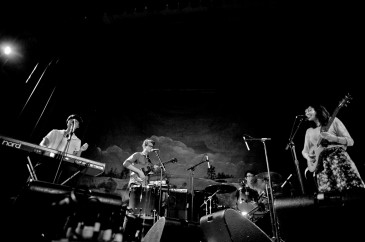 The show I couldn't miss this night was Xiu Xiu with Valleys and Braids at the Federation Ukrainienne. Set in a large hall with movie seating, I managed to find a front row seat and soaked in the majestic soundscapes of Valleys before and then being enthralled by Braids who got a much deserved standing ovation. By the time Xiu Xiu got on stage, I was more fully awake and attentive to the instrumental teamwork of Jamie Stewart and Angela Seo. Xiu Xiu pulled it off without a hitch but it was Braids that made the lasting impression this night.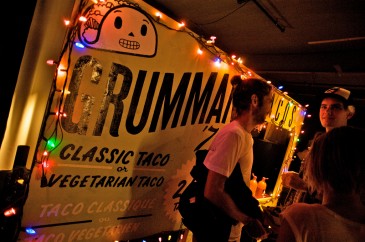 Saturday's secret show was announced early in the day and it was Deerhoof at the Little Burgundy Pop Loft. Perfect for those who missed their show at La Tulipe the day before. Greg Saunier of Deerhoof is a maniac on drums. Not only that, he stepped away from his kit, took the mic and proceeded to address the crowd in broken french—received by much laughter—to let us know that they would play a new song. At 2 a.m., I almost couldn't make it through the night energy-wise but thanks to Grumann's Tacos, sold in a room adjacent to the stage, it was the perfect show combo. Deerhoof, beer and tacos.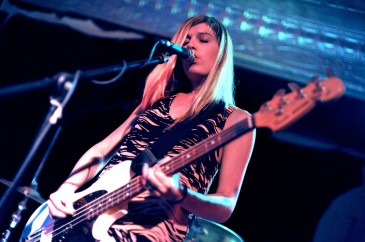 Day 5
Finally, to close out Pop on the last day (Sunday), film pop goers took in the film Mogwai: Burning film at Federation Ukrainienne with a Q&A afterwards in French with director Vincent Moon. With the volume cranked up for this screening, it showed the sheer power this band can deliver in a tight venue (Shot over three nights at the Music Hall of Williamsburg, Brooklyn). The final party would take place at Espace Réunion with Gobble Gobble and Big Freedia. By this time I was popped out so the I missed this final show but got to see one last show at the legendary Casa Del Popolo with Film School & the Depreciation Guild (members of the Pains of Being Pure At Heart). It was hard to leave Montreal after this—a full week of great music and great food. Lucky all you Montrealers have Pop Montreal events all year around.