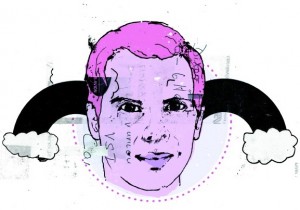 Ten years is a long time in the world of indie record labels. Lots of labels go under after one release, unable to keep their momentum—not Vancouver's Ache Records. Under the helm of Vancouver ex-wunderkind Andy Dixon, Ache has just put out release number "041" (Andy Dixon's Caving project's U.S. Caves) in the height of their ten year anniversary party.
Going on right now and ending Nov. 26, the Ache Records Sale is probably your best chance to acquire everything this label puts out with every release dropped to the rock bottom prices of $2 to $5 a piece. The label specializes in music of the genre pushing electronic variety, with releases from Secret Mommy, Kid 606, Basketball and the Project: Bicycle compilation. They also have a heavy dose of punk and hardcore in the mix including Death From Above 1979, Baby Control, Winning and Healthy Students. Ache was the original vinyl presser for Death From Above 1979 (though we doubt there's any copies of that left in stock at this point). For those with experimental folk tastes, this is your chance to pick up something by the Winks, Greg Davis or the Secret Mommy Quintet.
If all those bands (that's not a complete list by any means) have one thing in common, it's their connection to Andy Dixon, the creative force, head of the label and member of many of the bands on the label. He's the glue that holds it together and the one-man creative thunderbolt who has single handedly been half of Vancouver's music scene since he was a member of the teen group d.b.s.
If you can make it to your favourite record shop to pick up some of Ache's formidable catalogue, that's great, but we should also suggest that you make it out to some of the Pop Up Store events for Ache Records. Their merch table is where most of their currently in print stuff will be available. Check the Ache website and click on "Events" for details.