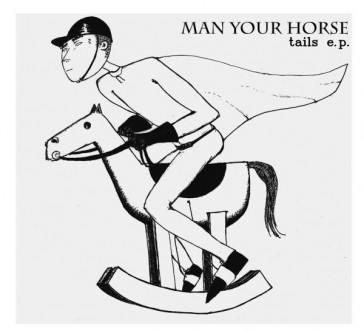 Local Vancouver band Man Your Horse's debut EP Tails presents six dynamic songs that bring the listener along for some some musical mental gymnastics.
The songwriting is tongue-in-cheek and each track is associated with a different animal, bringing to mind something of an indie-rock Aesop's fables. One such tale—about a hydrophobic polar bear on a melting ice flow—allegorically expounds on the fear of the inevitable. The opening song, "Adult Behaviour," is about coming to terms with one's role as an adult and learning to cope with the pressures of adult life—as told from the point of view of a hunted pubescent jaguar.
Man Your Horse channels a host of influences, from Tom Waits to the Mars Volta. There's a lot going on musically on the six tracks, which you might expect from a group who describes their music as "math/soul." A little ostentatious perhaps, but Tails delivers. The rhythms are complex and varying, often going through three or four different time signatures over the course of a song. There are traces of blues and prog-rock and the the distortion-drenched guitar also cycles through time signatures at a rapid pace, keeping the listener on their toes.
For a self-released first release, this is a strong showing from the creative rockers. Their high-energy sound, creative musicality and entertaining lyrics blend well; the recipe for one heck of a live show. For a healthy dose of cerebral indie-rock, keep an eye out for Man Your Horse.