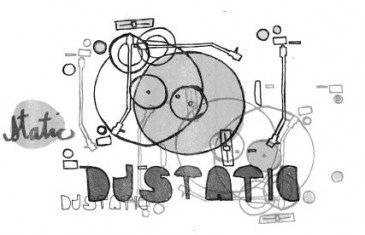 In the back room of Shine, an understated DJ spins for a modest crowd. He pumps out the funkiest beats on this side of the Rockies, dropping so many big tunes with such enormous energy and smooth mixes that you'd think there was a crowd of 500. No one who pops in can resist getting sucked in to his vortex of funk—no rump is unshaken and no foot untapped.
This master of funkiness is the amazing DJ Static, who has recently moved to Vancouver. The name is iconic and familiar, being a cornerstone of college radio with the hugely popular WeFunk. Similar in format to These Are The Breaks on CiTR, WeFunk specializes in all danceable beats on the funky side of hip-hop. For over 13 years, DJ Static and co-host, Professor Groove produced WeFunk for CKUT, McGill University's radio station in Montreal.
And luckily for us, at wefunkradio.com, 400 of the show's 575 episodes can be streamed. In 1998, cassette tapes were only barely extinct when Groove had the foresight to archive the shows and produce an internet stream (a rarity then). Being technologically savvy proved enormously useful in propelling WeFunk to international fame. In 2001, a relatively new iTunes created a house station they called WeFunk Radio.
"We never applied to be carried by them," Static said in a recent interview. "We found out after the fact, which was a big break for us. The next year we started to get emails from far away places like Russia!"
Another secret to WeFunk's success has been good connections in the music scene. Their show has featured Montreal talents like Butta Beats and Smoked Meat and international guests like Duke Eatmon (referred to by Static as "an encyclopedia of music") and Nomadic Massive, who Static performed with previously.
When asked to comment on being so well connected, Static just laughed and modestly replied, "Yeah, after 14 years I guess you meet some people."
The recipe for his lengthy career has been a splash of good fortune, a hint of modern technology and some tablespoons of industry connections. But undoubtedly the main ingredients are his great musical taste and super skilled turntablism, sautéed in some passion and positive attitude.
In a changing industry where turntable skills are becoming less common and laptops are more common, one might wonder if he feels the art form has degraded.
"Not at all! The program I use [Serato] has opened a lot of doors technically. You can set cue points, loop your own samples, and even play your own beats without having them pressed. Just like we learned vinyl then, I am learning to make the most with the new interface. I have seen some DJs that are technically better then me do some amazing stuff!"
Back in the early '90s, Static was attending school in Vancouver. "Hip-hop was still underground, so CiTR and CFRO had all the shows I listened to regularly. My first break into college radio was an ad I did for the DJ Sound War '94," Static told me.
"Hip-hop music then sampled a lot of funk and soul music. People become interested in what came before—what's the source of all the different samples." It was a lot of work tracing those roots in those pre-Internet days though. "I used to read the album credits, which would usually say … James Brown, or who ever. I started building a list when I was a teenager."
Hip-hop may have changed, but Static isn't complaining. "Many people complain that hip-hop has changed, but like anything it has to continue to move forward," he said. "Granted, it's a commercial monster, but there just wasn't the popularity or marketing then for artists to live off the music. That's what the pioneers would have liked to do."
WeFunk has always stayed on formula and progressed with the times.
"It's a DJ's job to keep up with new music. We have our core sound but we always look for new music that fits our mold. At the same time we look to expose old music that has been forgotten."
Now that DJ Static has returned to the West he enters a new chapter in his musical career. Thanks to the power of technology, he will continue to do WeFunk remotely.
"I've met some really like-minded people [in Vancouver]. I suppose I'll just keep doing what I'm doing and see what happens," Static explains when I ask him what his plans for the city are.
In his first Vancouver gig Static shared his set with old friend DJ Flip Out at a breakdancing competition. He occasionally plays at Shine and feels positive about his new connections. With his recipe of tasty beats and tantalizing skills, no doubt he is right. DJ Static's recent migration west is a happy thing for Vancouver's rumps!
You can follow where Static is gigging via his Facebook or his MySpace.