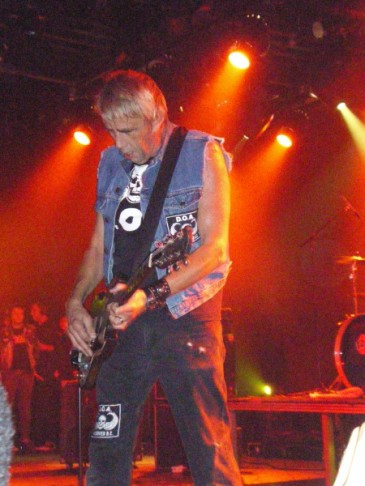 A retrospective of D.O.A.'s last 30 years could go something like this: fuck politicians, fuck police brutality, fuck war, fuck big corporations, legalize marijuana, and hey, fuck you if you're a disco-lovin' douchebag! These problems haven't gone away, so there's never a shortage of material for D.O.A. [ed. Disco-lovin' douchebags still exist.] Throw in Afghanistan, Dziekanski, Campbell, Harper and you've got yourself a protest band.
I knew it was going to be an interesting night when in the course of five minutes I saw Courtney Love and Kurt Cobain lookalikes (not together). Although there was a half-decent mosh pit and a few rockin' mohawks, the room didn't feel too punk. It was more of a birthday party: Joey "Shithead" Keithley's family was in the house, and we got the PG version—which didn't mean we were deprived of old standards like "Fuck You" and "Marijuana Motherfucker." "Disco Sucks," "Police Brutality" and "Devil's Speedway" also got a workout. Keithley has long championed the common ground between punk and folk, and included a history lesson before tearing into "This Machine Kills Fascists": "Woody Guthrie is the father of protest music! If you don't know who he is, look him up on your fucking computer!"
More covers like CCR's "Who Will Stop the Rain", Edwin Starr's "War", ZZ Top's "La Grange" and Stompin' Tom's "Hockey Song" kept the party hearty. Speaking of hockey, the Vancouver Giants' new alternate jersey was also unveiled. That's as Canadian as the effigy of Gordon Campbell with an "I HST" sign that magically appeared mid-set.
Here's hoping D.O.A. continues on in some form for another 30 years. Maybe it's time to revive the famed "Drunks on Acoustic" shows from back in the day. (More acoustic, less drunk?) As Keithley reminded us at the end of the night, "together we can make this world a better place if we fucking try."