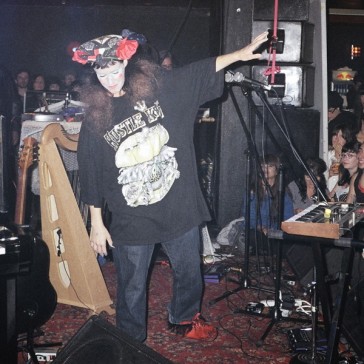 On Wednesday, Sept. 16, the great CocoRosie graced Vancouver with a rare North American tour date. The set and performance were truly operatic, complete with costumes, orchestral accompaniment in the form of a harp and a stand up piano, and bone-chilling vocals. The only thing that was less than idyllic was the price of drinks, set at $5.25 for a can of Budweiser! [ed. Ew.] Which I suppose is to be expected as places like the Red Room continue to pick up the slack for all the venues that have recently closed their doors for good.
The opening act was a trio from Toronto, fronted by Katie Stelmanis. This group of women did an excellent job of setting the tone for wonderment, playing with a stand-up drummer wearing a scary futuristic mask. Having already released a split 7-inch with Polaris Prize winning artist Fucked Up, this band is destined for big things.
It was clear who all the boys and girls came to see, though, and that was CocoRosie. Preshow, the dance floor was filled with polite fans, sitting cross-legged in what must have been quite a spectacle for the door staff of the Red Room, who reminded me of the sort that used to eject me from venues when I was in my late teens. CosoRosie's performance was enchanting, in no small part due to their chosen accompaniment: a pianist and a rapper/beatboxer. The operatic vocals were better than studio quality, and the characteristic telephone-like vocal effects, which are a big part of the reason why you never get tired of listening to CocoRosie, were exactly as expected. It was nice to go out with such high expectations and have them more than fulfilled, leaving me with nothing but reverence and religiously awaiting their next ascension to Vancouver.