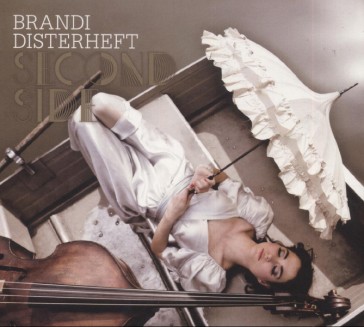 There is a misconception floating around that jazz is a dying form; that its depths have been plumbed to the very bottom, and all of the great innovators have already done everything with the genre that could be done.
If this were true, one would think that there would be no ambitious jazz players out there, which is where Brandi Disterheft neatly sucks the wind out of naysayers' sails. The young North Vancouver bassist is nothing if not ambitious, as she proves with her sophomore effort Second Side. In fact, she is at her best when she is taking risks and pushing the boundaries of jazz composition and arrangement. Disterheft often steps elegantly out of the chains of genre in order to play a double bass duet with kalimba (as on sister tracks "Second Dawn" and "Dawn"), or to pair mariachi horns with surf guitar (on "Combien de Chances," a delightfully swampy number that evokes images of Clint Eastwood staging a showdown in a Brazilian lounge club). These experiments result in rich, textured songs that slink in one ear and rumba out the other.
For all of her experimentation, Disterheft remains firmly rooted in jazz. Her straight jazz tracks are smooth and smoky without becoming "jazzy," a word generally applied to the kind of despair-inducing ditty fit only for elevators and airports. Strong guest vocals from Holly Cole and Ranee Lee add elegance and variety to Second Side, while the brief instrumental tracks dispersed throughout the album soulfully evoke the album's theme of love and its "associated state of belief."
"Belief," according to the album's liner notes, "is acceptance by the mind that something is true or real, often underpinned by an emotional or spiritual sense of certainty." With any luck, Disterheft's considerable talent and enthusiasm will help to revitalize the world's belief in jazz as an art form with a long and exciting journey ahead of it.