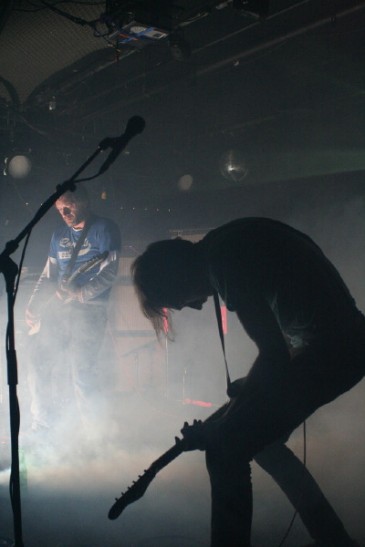 What an intense night. Atlanta's All The Saints got things started off with a rapturous set of droned-out grunge that really got people's attention. With thunderous drumming and guitarist Matt Lambert's artful use of feedback and effects pedals, the group displayed a strong psych aesthetic, but kept their approach loud and direct. This trio definitely illuminated the dimly lit stage over the course of 30 minutes, and even managed to keep the spirit of rock and roll alive by trashing their drum kit at the end of their set.
Brooklyn/Chicago's These Are Powers next took to the stage with an unexpected set that defied genre. Singer Anna Barie proved that she knew how to dance, though only some of her audience did, moving to the group's complicated use of polyrhythms and syncopated electro-acoustic percussion. Thanks to one more-than-enthusiastic crowd member, Barie developed a nice rapport with her audience, and the group truly impressed with their varied and experimental dance music.
Finally, Brooklyn noise-rock trio A Place to Bury Strangers took to the stage. Lit only by a projection of white noise, the group lauded as the "loudest band in New York" proved that they deserved the moniker with a sonic assault of songs about the erosion of ego boundaries that whipped the audience into a near frenzy. (Who wouldn't freak out with only their id left?) Guitarist Oliver Ackerman whipped his instruments into a frenzy too, swapping between three guitars during his set, one of which was clearly intended to be thrashed and trashed up to the point of breaking. Thankfully, though, Ackerman didn't break any of his instruments, because then his audience wouldn't have experienced the epic wall of sound that would have made My Bloody Valentine jealous. Illuminated only by a flickering strobe light, Ackerman looped guitar noise and feedback overtop of hypnotic drum and bass lines for ten minutes that can literally be described as gut wrenching. A Place to Bury Strangers played a commanding set, one that can surely be called intense.