In the late 90s and early 2000s, the internet's novelty and burgeoning accessibility essentially made it a total free-for-all. There was a lot of earnest excitement for what the internet could be, though now we have a pretty standard idea of what an online experience is. Cyb3r Warehouse — a virtually local art space created by roommates Sam Herle and Brodie Anderson-Pilon — harnesses this nostalgia and eagerness to create a dynamic world and exhibition space perfectly designed for our current lockdown reality.
Cyb3r Warehouse largely features internet art, "art that's made in a way that is very digital where it's a lot easier to show it to people through the internet. It's usually made on a computer and it's less physical," Brodie explained. "It's a chance to show gifs and stuff," Sam added. "Things that usually you just scroll past and disregard and maybe don't consider art. Like if someone makes a 3D sword for a video game and they're really proud of it — it's usually not outside of that. Here, they can put it in a room and people can walk around and look at it." While the ultimate function of Cyb3r Warehouse is to be an exhibition space, "It's definitely not a neutral space," Sam clarified. "We weren't trying to make a white wall gallery. It's kind of our own art project too." Unlike most galleries, both physical and virtual, Cyb3r Warehouse's curators/creators' influence is omnipresent. With part of the function being its re-creation of disparate 2000s digital aesthetics, attempting to curate a space designed to feature its exhibitions in a "subjective" environment would be so obviously antithetical.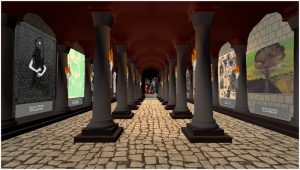 The "warehouse" is more of an expansive and adaptive world — with 2D streets, buildings, characters, and groves that you can wander through. Any exhibitions are housed in 3D buildings designed to match the theme or feel of the art featured. Right now, when you enter Cyb3r Warehouse, you're dropped at the entrance of a crypt inviting you to their current "Horror/Occult" exhibit. A couple weeks ago, you were dropped in the entrance of the general exhibition space, greeted by an angel in a full-body bunny costume and a beefy feline security guard. The space navigates like a video game — using the cursor to orient your "character", and the arrow keys to move around. The space itself is a combination of 2D and 3D elements that you observe, but don't necessarily interact with. Besides the areas of the warehouse explicitly delegated to featuring art, the world is an invitation to explore Sam and Brodie's digital fantasy. "I don't know if you've fallen into hell yet — where you fall off the path and you fall into hell and can't get out. We got lots of email like, 'Oh I can't get out of hell.'" Sam laughed. "We were like, 'That's kind of the point,' just making it something you wouldn't usually experience online and making it kind of a game where you can explore it and have fun exploring it too." "Yeah," Brodie continued, "I think we're both open to the idea of making it as big and extensive as possible because there's a certain limitation to what we can do in one space, […] but I do like the idea of just building on top of things and it keeps getting bigger and bigger." Most of the expansions Sam and Brodie are working on right now are for commissions from physical art spaces or festivals that are reevaluating what it means to host an event during a pandemic — including the current Doom Gloom Stuck in Your Room (DGSYR) Report exhibit, and Vancouver's upcoming local zine festival, Unibrow Festival.
The look of the space draws heavily from the maximalist, busy, and kind of goofy aesthetics of the early internet."I like the older style of what the internet used to be in the early 2000s, when GeoCities was a thing where anyone would just make a website and just fill it with basically whatever they wanted. You had a lot more freedom," Brodie explained. "I'm just really into that whole framework of older internet aesthetics, which aren't really as big of a thing these days, where you're taking risks making weird stuff that's really chaotic. I wouldn't want to make something that's like, 'Look at how the internet used to look,' with a Windows 95 simulator, where it's like, you just go on an old computer that's hard to use. It's still new ideas, and a new space, but just taking from that same energy that used to be there." Cyb3r Warehouse's strength is in balancing the skill of building a functional space with that chaos.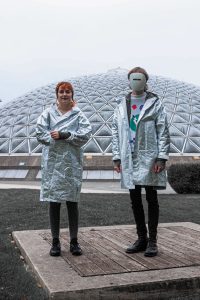 Sam and Brodie's curatorial process mirrors that of Cyb3r Warehouse's aesthetic of structured disorder — you just have to send them an email. "We wanted it to be less of a process — people can just email us and we can give them a more interesting platform to show their stuff," Sam explained. The internet is a famously dark place. Its complete anonymity, and lack of accountability, warns users against digging too deep into any corner of the net to shield against blatant ableism, racism, transphobia, homophobia, and/or misogyny and, all too often, these precautions aren't enough. The opening criteria for any submissions to Cyb3r Warehouse is the total unacceptability of any hateful messages. "We just want to be pretty firm with that just because there are some bad internet spaces," Sam explained. "I feel like if you stumble across something on the internet, you really wanna' know what you're dealing with, and where everybody stands on that." 
Even before the pandemic, much of our lives had already transferred to the online — COVID has only exacerbated that. "I had the idea for it before lockdown started, but just in idea form. Just the idea of an online exhibition space for art that doesn't usually get shown in other locations," Sam explained. "But when lockdown happened we both realized that it could be such a bigger opportunity." They continued, "I was inspired by other virtual spaces people are making and riding the wave of online things because I think there's really been a resurgence in that. Talking about the early 2000s again — I think there was a big phase when Second Life and IMVU came out, and people were like, 'Oh, this is awesome' and later on moved away from that. Now there's not really the option to go to physical spaces, so all these online spaces are getting much more popular again. People are trying to utilize them in whatever way possible — like throwing raves on IMVU and through Twitch and stuff. So we just wanted to follow that and make a space that was fun. Not more of an online art gallery, but more of an online DIY space." The role of online spaces is constantly transforming as aesthetic trends and the limitations of what's possible, both online and offline, fluctuate. Cyb3r Warehouse is offering a lot of possibilities as a world that exists entirely on the internet. "Around the beginning we were talking but doing live shows and streams and stuff, with multiple people in the space," Brodie entertained. "I just don't know how to do that. But as soon as we figure it out, I'm down to do it."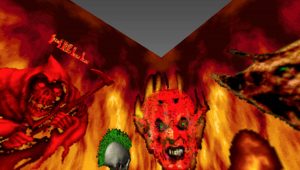 Although the space may seem best suited for the current times, Sam and Brodie don't expect Cy3r Warehouse to dissolve any time soon. "Even when physical spaces open, especially with internet art, it'll still be good to have a space people can send their gifs and art that's more conducive to online spaces," Sam anticipates. "There'll still be a want for that because tons of people are making digital art, especially people who haven't before lockdown started." The internet is a pretty infinite medium. With Cyb3r Warehouse, Sam and Brodie are reimagining the online experience. Their shameless celebration of the ostentatious and gaudy digital aesthetic is refreshing and nostalgic. 
Enter Cyb3r Warehouse at http://cyb3rwarehouse.com/.
Submit your art to cyb3rwarehouse@gmail.com. More info at http://cyb3rwarehouse.com/.