The first thing I noticed as Warm Amps played their first lilting chord was that this show was loud. And no, not just ears-ringing-as-you-step-outside kind of loud — it was ear-splittingly, bass-rattling-your-jeans loud. Luckily, KW Studios were nice enough to provide a big basket of free earplugs for audience members. Normally, I'm a purist and enjoy having my hearing destroyed in the name of an authentic experience, so this was my first (and probably last) gig wearing ear plugs. Regardless, I'm grateful that it was an option.
Primp, the garage rock trio, were second to the stage, acting as a brilliant contrast to the slower, melodic low-key songs of Warm Amps. Primp was the sunniest of all the bands that night, laughing and chatting away to the audience while joking around onstage. Their songs swung between being peaceful and dreamy to taking turns screaming at each other through the microphone assisted by call-and-response riffs.
KW Studios, a black box theatre that doubles as a production and recording studio, made for a fantastic blank canvas for the five contrasting bands to play their sets. Portland-based psych rock three-piece Máscaras' set was lit by a single flat blue light, giving their set a gloomy undertone. Despite their songs not featuring vocals, their music was super-charged with feeling, with the fastest drumming and head-banging combo of the night. Their songs truly came alive in the venue, culminating in a wash of drawn out hi hats and cascading psych riffs.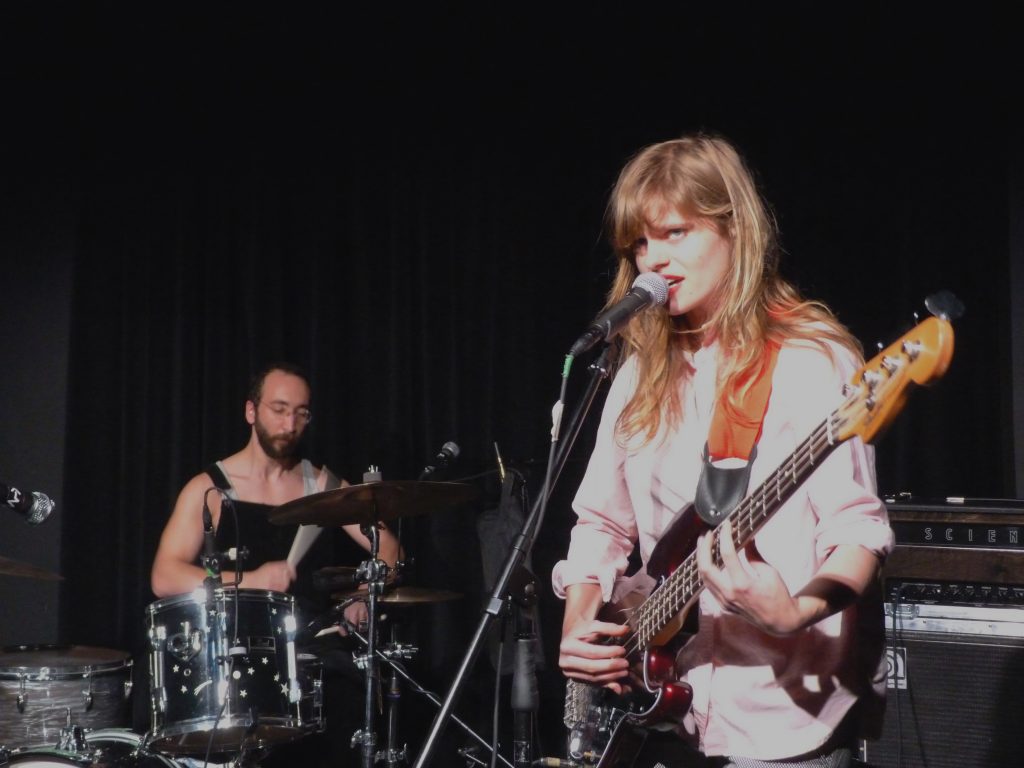 Vancouver locals Swim Team followed with only a slightly more subdued set. Before their set, I'd noticed their drummer taking a minute to pogo around at the front of the stage during Máscaras' final songs — needless to say, Swim Team were fired up and ready to go. Drumsticks were chipped, picks were thrown, and yet the band somehow managed to maintain their endurance to the very end, despite ending up physically dripping in sweat. Bass player and vocalist Dorothy Neufeld's red lipstick somehow stayed intact throughout the entire set, adding to the roster of the night's many spectacles.
Blessed — whose newest album, Salt, heralded the creation of the event — had some tough acts to follow. After a lengthy soundcheck, Blessed entered the stage awash in an eerie red. Their set arrived as a wall of post-punk experimental sound, barely pausing for breath in between songs. Despite a few pedal-related technical issues, their show was certainly worth the wait, and felt so nuanced, exciting and almost otherworldly. As they tied up their set, it became clear that the audience had become transfixed with Blessed's stage presence, combined with the sheer volume of the performance making it incredibly hard to focus on anything else.
Perhaps it was the long length of the show itself (which by this point had lasted for a solid few hours) or maybe it was just the atmosphere of the deep, dark underground studio, but Blessed's set felt almost hypnotic. It was difficult to tell where songs began and ended, and as the final song cut out I realized I'd been standing, spellbound in a trance for a long while.
As the house lights came on and the audience filtered out from the room, I wasn't sure whether to feel exhausted or relieved — or both. The culmination of Blessed's album release was a lengthy, but brilliant and varied show supported by a long roster of local talent.