Nasty Women, unsurprisingly, is an all-women sketch comedy group based in Vancouver. Founded by Jenny Rube, the group is comprised of a laundry list of some of the city's greatest rising talent, listed in no particular order: Rae Lynn Carson, Kerri Donaldson, Racquel Belmonte, Ese Atawo, the aforementioned Jenny Rube, Stacey McLachlan, Allie Entwistle, Denea Campbell, Annalise Stuart and Carla Mah.
Discorder's Jennifer Brûlé sat down with Jenny, Allie and Kerri to discuss everything Nasty Women.
---
Is Nasty Women sketch comedy or improv or both?
Jenny: It's mostly both. First half is sketch, second half is improv. A couple of times we've done just all improv, [or] sketch like Saturday Night Live. Usually we have a theme for the show with everything planned out, and then we'll do sketches — either new ones or pre-existing ones.
What kind of sketch do you do? Is it geared towards more of a feminist lens?
J: Honestly we're just women who do comedy; not just; we are women who do comedy.
Kerri: It's just, none of us are setting out to write a feminist sketch, but we all are feminists, so it naturally comes out in our writing. We just write what we want to do. That being said, so many of our sketches come out that way, and all of a sudden a silly premise is a metaphor that's bigger than us, involving political satire and the the state of affairs.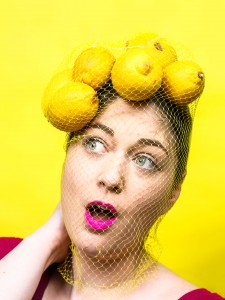 Why is now a great time for Nasty Women to exist?
K: I think now, more than ever, there's a movement happening, so every time a bunch of girls are going to get together it becomes political, you know? We're just comedians, individually, and we didn't set out to change anything.
Allie: We set out to be comedians.
K: Yeah, we just want to make people laugh, but the act of us coming together is a very political choice. Like, here we are and this is what we want to say. Because, we've all had our own experiences where we've been in shows and groups and stages where we were the only female, or we were made to feel unsafe, or unwelcome in either overt ways or subtle ways. So, [Nasty Women] is just like our way of taking it back. As much as it's political, we just want to work together and have fun.
A: There have been times where I am the only woman and it's tiring. You're often made to play parts where, all of a sudden, you're the princess, or the girlfriend, or the wife.
J: I have been on a team where I'm the only girl in the group, and then people look to you to fill the female role. Because, when you're the only female in the group, you should be doing these roles — like the powerful one, or the bossy one, or the complacent one — and you have to nail it. The pressure is higher and if you don't… It's just, I have felt held to a different standard. What's great about this troupe is that were all women and we play whatever role we want.
A: What I do love about Nasty Women is that because sometimes, as a woman, I will take a back seat and let a dude do more. But when I look around, it's all women and we're in charge.
K: Yeah, exactly. Women play so differently with each other, I like playing with men too, but it's just different energy. With women, we don't have to shy away from specific stories like we do with men and be like, "Oh no, he'll feel uncomfortable about this very specific female thing that happens to women."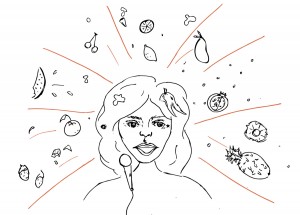 What is your favourite aspect of working and collaborating with other women?
K: Everything. It's my favourite show, so much fun. I look forward to it, and there's never any dread in my heart. I feel supported. The audience is always excited to be [at the Biltmore] on a Monday night, and immediately excited and ready to go, which makes the perfect combination for comedy. We all adore each other as well.
A: In an environment that could be competitive, this group of girls always support each other.
J: There are 10 of us, so we all have our own opinion, but I have never not felt heard.
X
Follow Nasty Women Comedy on Facebook, Twitter @nastywomenvan, or on Instagram @nastywomencomedy for upcoming performances, and news on individual comedians and side-projects. The next Nasty Women Comedy show is on May 14 at the Biltmore Cabaret, 8:30PM. Tickets are $10 in advance or $14 at the door.