After the first annual Vancouver Mural Festival, a certain air of liveliness transformed Mount Pleasant. The streets seem more jovial, the sidewalks busier somehow, and the folks going about their everyday business are now set against colourful stretches of painted walls. Inspired by the success of Montreal's MURAL Festival, Vancouver Mural Festival's efforts to bring art from the gallery to the public has seen favourable responses from a number of businesses in the area, and is now slated as one of Vancouver's central cultural events. Following the organization's mandate of "transforming how art is seen in Vancouver," VMF has exploded out of the gate. In 2016, the festival hosted over 50 artists in creating 41 unique murals which will remain present in their locations for at least two years. This year's festival will see an additional 50 murals, located mainly in Mount Pleasant.
When I talk with David Vertesi, co-founder and Executive Director of the festival, he expresses his sincere desire to put forward a varied roster of artists. "We want to see the most diversity [of murals] possible, and we want the festival to be a gateway for arts and culture on all levels," remarks David. "Murals are a bit of a more popular artform, [and] we see it as a chance to engage people who would otherwise be uncomfortable going into galleries."
David suggests site-specific neighbourhood art could be a valuable tool to bring visibility to issues in Vancouver communities, including gentrification and housing issues, Indigenous reconciliation, and the opioid crisis. Using murals as a medium to engage with local organizations, VMF seeks to facilitate art that leaves a meaningful impact. David explains, "Murals have the potential to bring awareness to things that need more of it, and that's where we see the power of the artform, and we hope to work with people in the community to help do that." The festival's role in assisting the installation of the Memorial Wall along the Downtown Eastside Street Market was an action to bring more acknowledgment of the fentanyl crisis.
While chatting with David, he shows concern when we start discussing negative neighbourhood impacts. The tone shifts to something a bit more serious, and it's clear David has been mulling over the effects that public art and beautifying projects can have on communities.
Vancouver's gentrification is reflected in the 'revitalization' of known low-income neighbourhoods. Most recently, areas like Mount Pleasant, Chinatown and the Downtown Eastside have seen an influx of development negatively change the neighbourhood landscapes, pushing out longterm residents and independent businesses. In recent years, the tech industry has found a home in Mount Pleasant, occasionally dubbed "Mount Pixel," one may find the vibrantly painted head offices of Hootsuite among others tech companies. The industrial area fits the "downtown but not quite downtown" allure of many other American tech hubs, such as Capitol Hill in Seattle. If history is to repeat itself, the small, unassuming changes to low-income neighbourhoods will amount to the exclusion of long-time residents. While an investment in public art in a neighbourhood may not be a primary cause of gentrification, it certainly seems to be a result.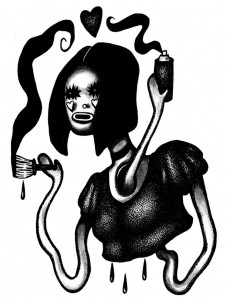 David suggests that advocating for cultural zoning while working closely with and meeting the needs of the local community, businesses, and developers may address these issues. "I believe there [are] other areas in the city that require a different approach both in development and not in development. [This includes] the protection of heritage buildings and legacy businesses, but also, culturally sustainable development," he states. David recognizes that the introduction of beautifying practices may be seen as threatening without the proper guidelines to ensure that the interests of residents and businesses won't be displaced.
"Primarily, we're an arts organization, but we care deeply about all these issues … so we're always trying to understand these issues better," says David. "We're trying to approach it in a collaborative way and demonstrate the power and importance of art and creating a community and culture that will influence future culture and the identity of the area." It is difficult to say, however, if the alleged cultural influence is desired by all neighbourhood residents.
In reference to the boost in cultural events subsidized by the City during the 2010 Winter Olympics, VMF wishes to evoke what was perceived as a lively, creative atmosphere at that time. "I think [during the Olympics] was the first example in a long time where Vancouver realized 'isn't it great when there's lots of things happening and there's art and music everywhere?' And by extension the people who hold the purse strings and control City policy seemed to like it too," says David.
The 2010 Winter Games raised Vancouver's reputation as a world-class city. However, one notable legacy left behind was the wide-sweeping and sudden gentrification of the Downtown Eastside, with wealth pouring into neighbourhoods like Gastown. Shortages of affordable housing has left many without adequate housing options. The consequences of events with intentions to "improve" the city's image often result in the marginalization of existing populations through zones of exclusion.
Now more than ever, Vancouver must consider how it balances the interests of different communities that share changing neighbourhoods. Providing more opportunities to emerging artists, planning to modify the appearance of public buildings, and properly respecting the vulnerability of specific communities is a huge undertaking. Vancouver Mural Fest's attempt to strike a collaboration between artists and all community stakeholders is certainly ambitious for Vancouver, but should not be unprecedented with other festivals like Capture and Vancouver Biennale also using public space for installation. Vancouver Mural Fest seems to be open to having these discussions. Is everyone else?
X
VMF will once again brighten up buildings in Mount Pleasant this summer, with a couple murals elsewhere for flavour. The official celebration date is August 12. Visit vancouvermuralfestival.com for more information.