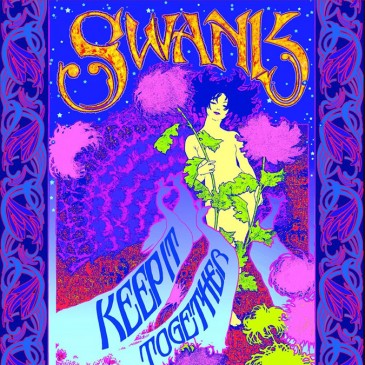 Where else but in Vancouver can you see jousting bikes (in Grandview Park) or a herd of unicyclists heading up Mountain Highway? Where else but here could you find a band like SWANK?
On Keep it Together, their fourth album, SWANK unleash their full West Coast energy like a force nine gale. These 11 gems will get you up on the dance floor and never let you sit down. I'll put Spencer McKinnon's rock star voice up against any talent you care to name — he's got the goods and charisma to burn. Surrounded by a monster band, and set off by Marc L'Esperance's crackling production, this new release serves notice that SWANK are ready to take their place at the very top of the bonfire.
What makes Keep It Together so groundbreaking for SWANK, is that they leave their good-old-boy roots behind for a full-on assault at the pop stratosphere. Super crunchy psychedelic surf guitars from David Badanic and Gord Smithers combine with the steam-roller, riff-laden playing of bassist Phil Addington and drummer Eric Lowe for a truly incendiary sound.
Fans of previous SWANK releases will not be disappointed. There's plenty for everyone here, ranging from sugar-coated pop bombshells like "Lazy" and "Pieces Of My Heart" to opening love song "Not Complaining," and the lovely ballad "Just Let Him Go," to the Stranglers-heavy dance floor mover "Don't Try This." Of course, this wouldn't be a SWANK album without a good train song, and "Rockbottom Line" delivers in a witty way that is still faithful to the beloved genre. Also in a country style is "All In A Haze," with a haunting pedal steel laid down by (earlier member) Doug Liddle.
But back to that "Jousting Bike." The song includes the immortal lines: "I'll do everything
to make you mine / I'll make you stuff I think you'll like / A ten-foot-tall jousting bike." A quixotically surreal image, and actually not that surprising, coming from McKinnon who is also an artist and sculptor.
Also worth mentioning is SWANK's magnificent Art Nouveau album cover by legendary Bob Masse — the artist who did covers for The Collectors and Jimi Hendrix's Are You Experienced. Wow!
SWANK's new release, Keep It Together is the sound of a band that has paid its dues, and with this fortunate spin of the dials, has come up straight across cherries. Sweet, cherry pop, with a bittersweet hint of lemon to make it just right. This album totally deserves to be the summer's big hit. Take a listen!