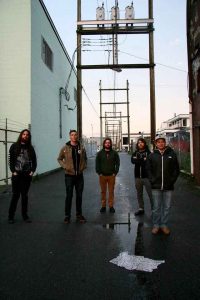 Neck of the Woods vocalist Jeff Radomsky pours me a whiskey from a glass skull. Sitting at his kitchen table, I converse pleasantly with Radomsky, guitarist Dave Carr, and drummer Jeff Brown. On a couch a few feet away, a friend of the band works on some mash-ups. Later on, some more friends show up to enthusiastically exhibit their recently purchased motorbikes. The convivial atmosphere is as intoxicating as the whiskey and it's quite apparent that these are not the sort of gentleman that most people — rather unfairly — associate with extreme metal. Beards and tattoos are present, aggressive demeanours and misanthropic nihilism are not.
Releasing their first, self-titled EP on May 22nd, Radomsky is jubilant as he recounts how incredibly supportive and inclusive everyone in the local scene has been since the band first started playing shows in early 2014. "I think that right now the metal scene in Vancouver is the most predominate music scene in the city," he says. Neck of the Woods are emphatic in telling me that the hard work of promoters such as Invisible Orange and Nothing Is Heavy, and record labels such as Scrape, have been instrumental in putting on shows, bringing shows into the city, and helping locals such as themselves open for some of the bigger touring acts.
Metal is a subculture that is often associated with elitism and immutable genre taxonomies, but this doesn't seem to be the case in the Vancouver scene. "There's so much diversity," enthuses Radomsky. "Everyone is pushing each other so hard right now."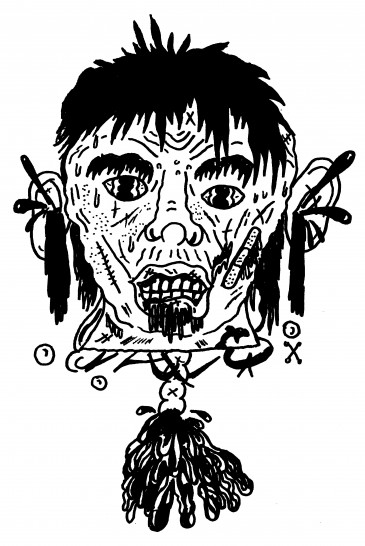 Neck of the Woods, along with bands such as Bushwhacker and Of Modern Architecture, are one of many heavy Vancouver bands that are all quite sonically disparate, but share a disposition towards refuting the constraints of a single sub-genre. Their name was chosen precisely because it is not loaded with the typically grisly trappings of extreme metal. "If we were called 'Deers Dying From a Dead Womb' or something," chuckles Carr, "then you know what you're in for."
Neck of the Woods do not want to be held to expectations because of a name, so they chose a name that could easily belong to a band of any genre. This allows them to comfortably draw upon an expansive musical pallet. Carr says he will never discard of a riff because it's "not metal enough" and this openness to experimentation forms the backbone of their blistering debut EP.
Carr emphasises that the band always have stylistic dynamics in the back of their minds while songwriting. Their influences from the more cerebral side of extreme metal are apparent, but there is a lot more going on with Neck of the Woods than mere imitation of the baffling time signatures of their idols. Genres ricochet off each other and their EP is technically impressive to say the least. But this is not just chops for the sake of chops. "The cohesive whole is always taken into consideration," says Radomsky, "We all have very different influences… that's why it's so fun to play in this band… we can just do whatever the fuck we want."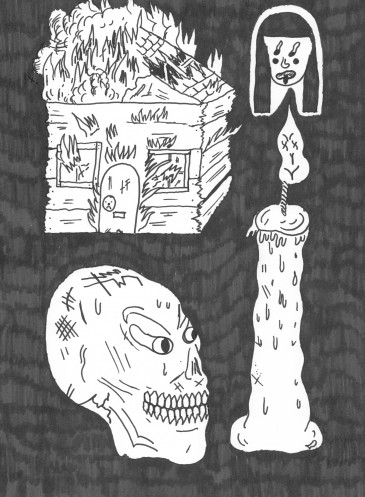 The result of this level of freedom is the sound of a band who have absorbed their influences and are using them to inform a piece of work which is totally unique, without losing focus on creating solid compositions. Complicated song structures are woven together while being anchored by a foundation of Brown's unwaveringly impressive drumming and Radomsky's gruff roar. EP opener "Disavow" perfectly traverses beauty and pulverizing heaviness, experimentation, and catchy riffs. "Left Behind" is as crushing as it is exuberantly upbeat. "Trap Door" is an energetic blast with its own oddly fractured approach towards groove. "Two Smokes," the EP's climax, is bookended by surprisingly fragile sounding arpeggios, with all the sweeping scope of a post-rock band trying its hand at metal in the middle.
Neck of the Woods are masterful in the building and releasing of tension in their music. "If you're full on all of the time then you lose your impact… the heavy parts are not heavy if you're going full on all of the time," explains Carr. Reflecting on the band's tendency towards sonic experimentation, Carr concludes, "It's pretty natural for us." This makes sense, given that the band are of a generation of metalheads weaned on Converge and Between the Buried and Me; playing a novel form of metal is in their musical genetics, rather than a calculated attempt to confound the listener.
After a few more whiskies, I leave Radomsky's house feeling elated. This is an incredibly interesting time for metal generally, and Neck of the Woods are an embodiment of this potential. The genre's modus operandi is shifting from a rigid adherence to various subdivisions to something more fluid. It is clear that these guys hold a deep reverence for heavy metal, while simultaneously not feeling constrained by it. I can't shake the feeling that these are the early days of a band that is about to make a huge dent in heavy metal's landscape, and it feels incredibly exciting.
Neck Of The Woods' self-titled debut EP will be released on May 22. Be sure to check out their album release show on May 30 at the Astoria.